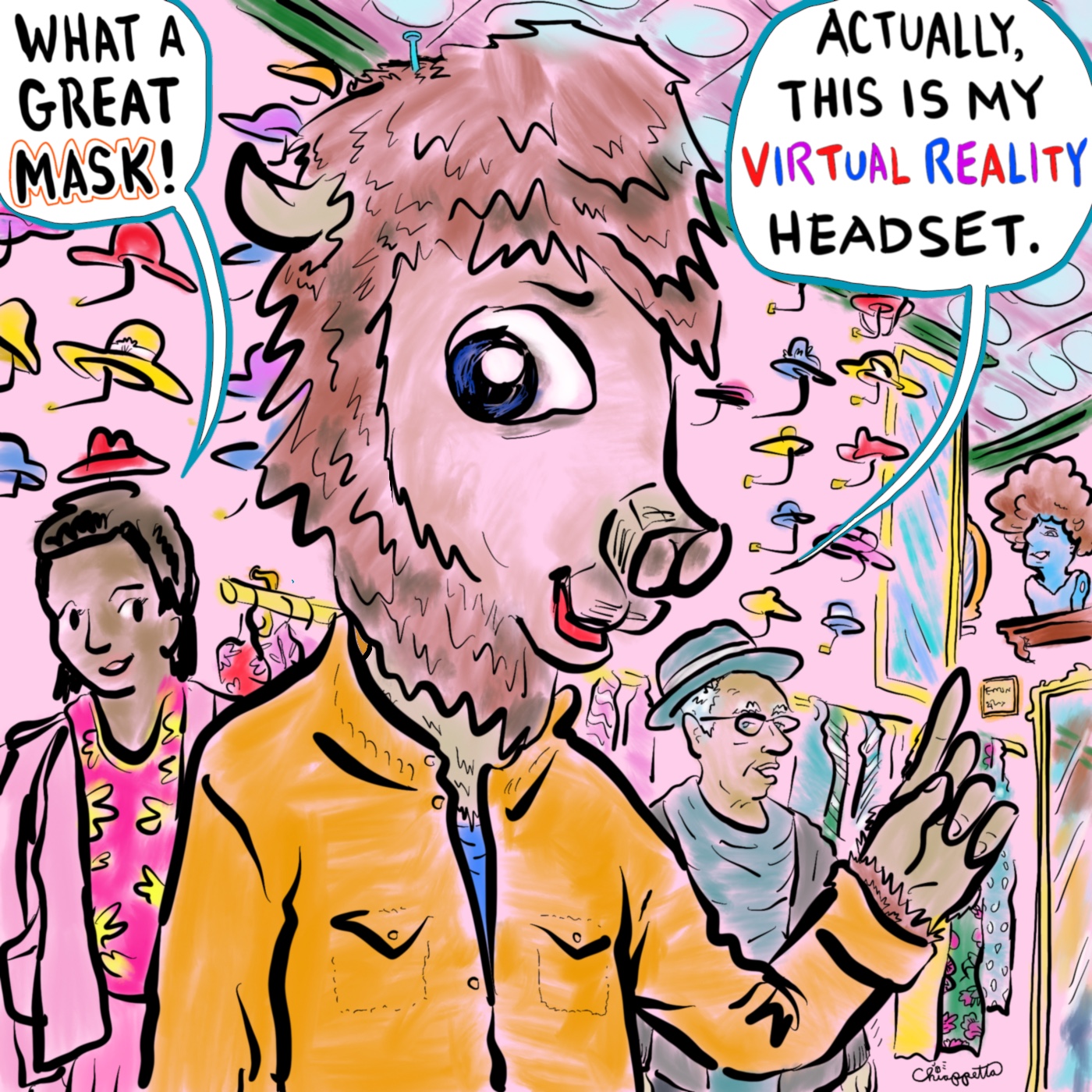 Where the Buffalo Browse
is rare digital art by Joe Chiappetta, available on
Atomic Hub Marketplace
. While this cartoon pokes fun at virtual reality culture, behind the fun just might be an economic revival for the art industry--the likes of which has never been seen--at least not while wearing a buffalo helmet.
World's Fair of Rare Digital Art:
Digital Art Needs a Multidimensional Digital World
Joe Chiappetta, February 2021
When virtual reality (VR) becomes user-friendly, affordable, with universal technical standards integrated from online gallery to gallery, the art-loving world could see a revival more influential even than the Italian Renaissance. Indeed, everyone (with internet access) could witness this World's Fair of Online Art, open 24-7, poised to impress and built to buy/sell rare digital art as if you were floating through a game-like world because... well... because you would indeed be floating through a game-like world--virtually speaking. Such a place would have free admission for all, economic opportunity for all, and operate in 4 virtual dimensions of height, width, depth, and the dimension of "Wow, this is awesome!"
Of course, online 3-D digital worlds are nothing new, as any player of Minecraft or Second Life will tell you. Neither is cryptocurrency a new thing. In fact, all 3 of these systems have been operational for over 10 years. Yet what would happen if a 3-D digital world were well-integrated with digital art, community equality, and cryptocurrency? It could become the art industry's "killer app."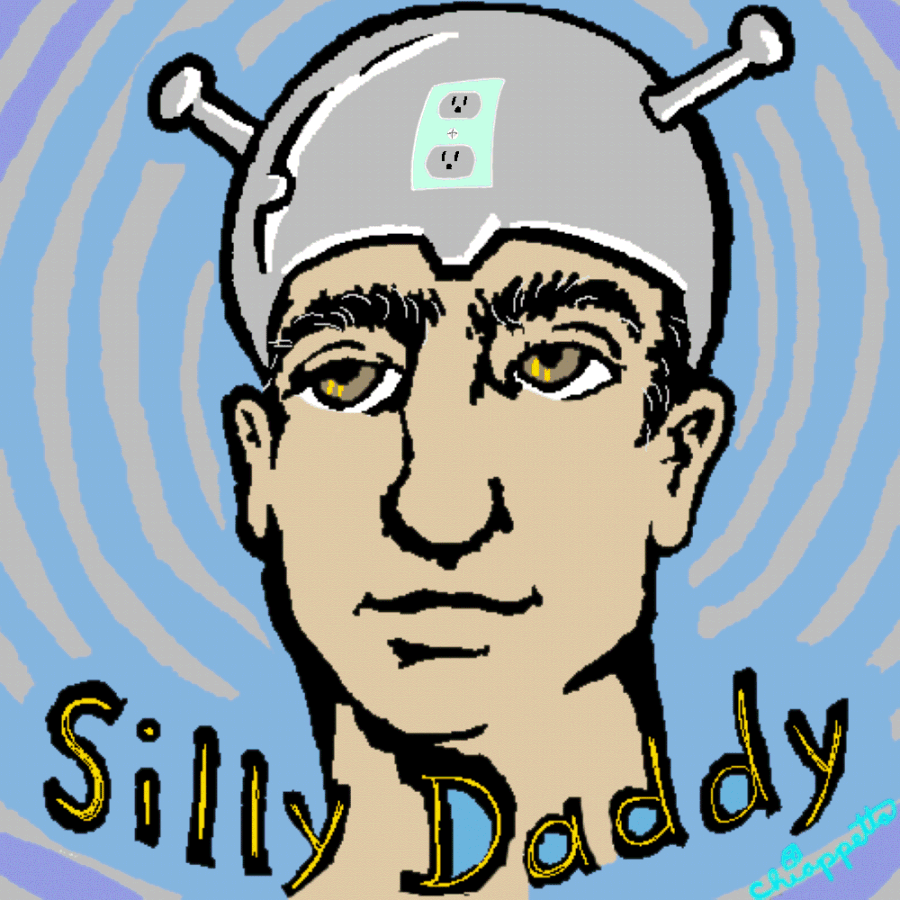 Silly Daddy VR Helmet
is rare digital art by Joe Chiappetta, available on
Atomic Hub
At 64 billion dollars for 2019, the global art market saw a decline in sales from the previous year. While 2020 statistics are not compiled yet, it is likely that this figure will be even lower. With fast transactions and borderless payment power, some are scrambling to declare cryptocurrency as the soon-to-be savior of a slumping global art market.
However, the truth is
at least
a little more complex. Made possible by cryptocurrency, a small but excited number of people do collect
rare digital art
. But most in the art world still have no idea what such terms really mean.
What is rare digital art?
It's online creative work tied to cryptocurrency that has been released in limited quantities, verifiable on a blockchain. For those in need of a refresher on
what cryptocurrency is
, think of it as coded internet money or credits released (usually) by entrepreneurs in specific predefined amounts. I should know; I have been researching and
writing about this space
for many years. In fact, I'm one of those
rare digital art collectors
. Many know that I am also a pretty prolific
rare digital artist
and educator in this space as well.
If you are just joining the rare digital art industry now, don't think you are late to the party. While rare digital art is 6 years old, the earliest pioneering developments from 2014 were not widely publicized and very slow in adoption (running on top of Bitcoin, often using Counterparty). Indeed, the first 4 years of rare digital art went by without much notice. Even now, the mainstream art world remains quite slow to completely jump on the bandwagon. So we are still in the very early days of rare digital art! For example, the Italian Renaissance lasted about 200 years, and some art historians find traces of the Renaissance roughly 100 years prior to its start through the work of Giotto.
Whether the Italian Renaissance lasted 200 or 300 years, is not the point. Rather, it is significant that when a new movement starts, the early years of that movement are never as defined as historians make them out to be. Therefore if you are in rare digital art now, congratulations, fellow pioneer! You will be one of the early ones to help define and further shape it.
Since we are the early adopters, the question at hand is "Where do we go from here?" The first step is to soberly see where we really are now. The practice of buying rare digital art is only slowly being adopted by mainstream art collectors, and much of the rare digital art industry is dominated by speculators looking to make a quick profit flipping art.
As an old-school physical collector turned rare digital art collector, I am not a flipper or speculator. In fact, of the many rare digital artworks in my collection, I rarely sell pieces from my collection. That is because I acquired the art in the first place because I wanted it for the fun of it. The art spoke to me in a unique way and simply made me happy. So if I can add such a piece to my collection, I will, and not worry about whether or not I can make money off of it later.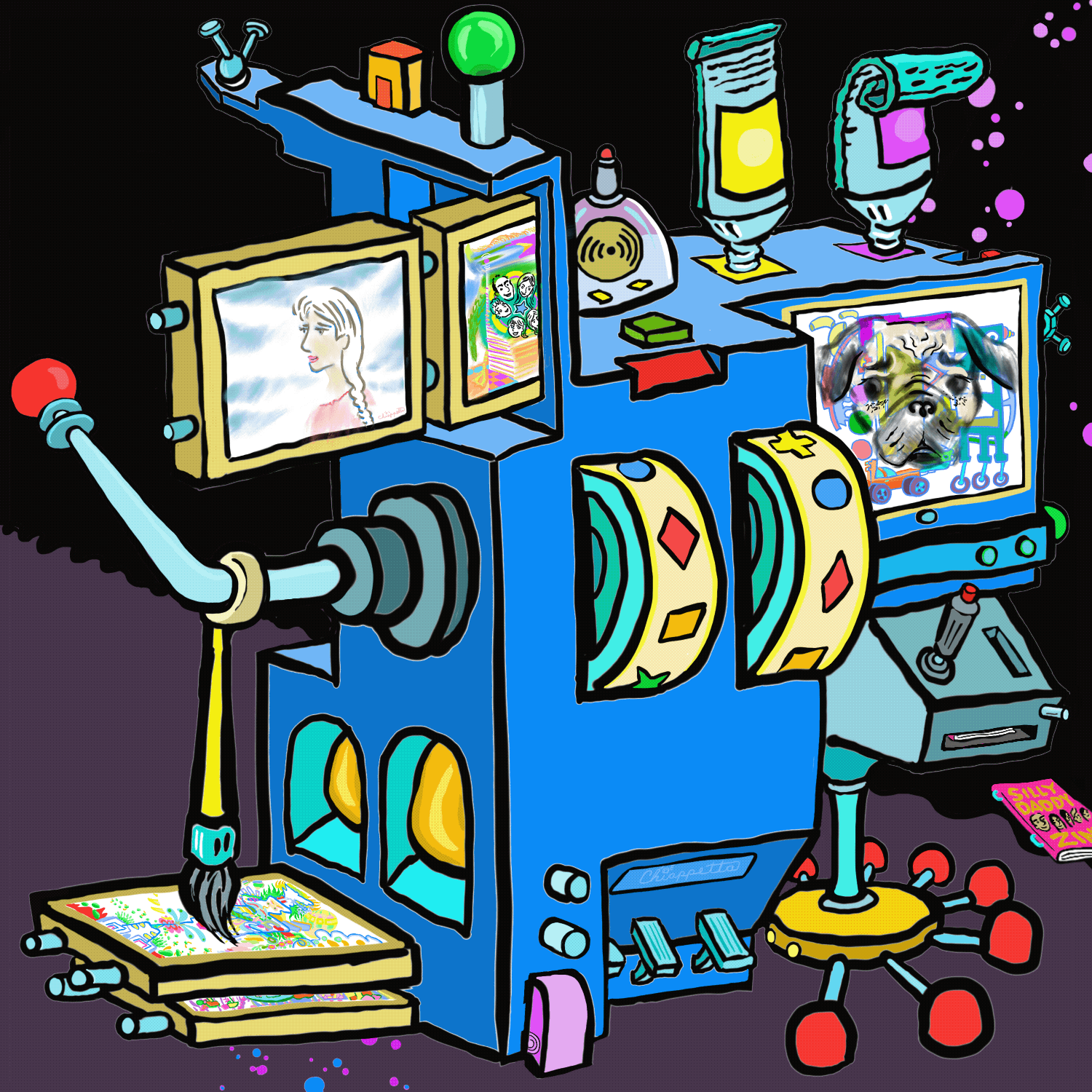 Zine Machine
is rare digital art by Joe Chiappetta, available on
Atomic Hub
.
By contrast, I do sell a nice amount of my own original artworks. That has been a practice of mine in the physical world (since the 1990s at comic book conventions) as well as in the digital world on rare digital art markets. While (literally by the grace of God) I have collectively sold hundreds of pieces of rare digital art on
MakersPlace
,
SuperRare
,
Atomic Hub
,
Book of Orbs
, and
pixEOS
, I can't say the same for everyone. Indeed, the opposite is true; the majority of artists--despite their great talent--are not selling much.
Unlike myself, not everyone has the benefit of 4 decades experience in the arts as well as authoring one of the longest running autobiographical comics about family like I have with
Silly Daddy Comics
and
Silly Daddy Zine
. Most folks are just starting out as artists, or are really strapped for time working odd jobs and doing art on the side. Therefore, people can't be wasting time on markets where they may never sell anything. Everyone's time is valuable. So it is important, as we shape the rare digital art economy, that we build more opportunity in it--not just for the superstars, but for everyone.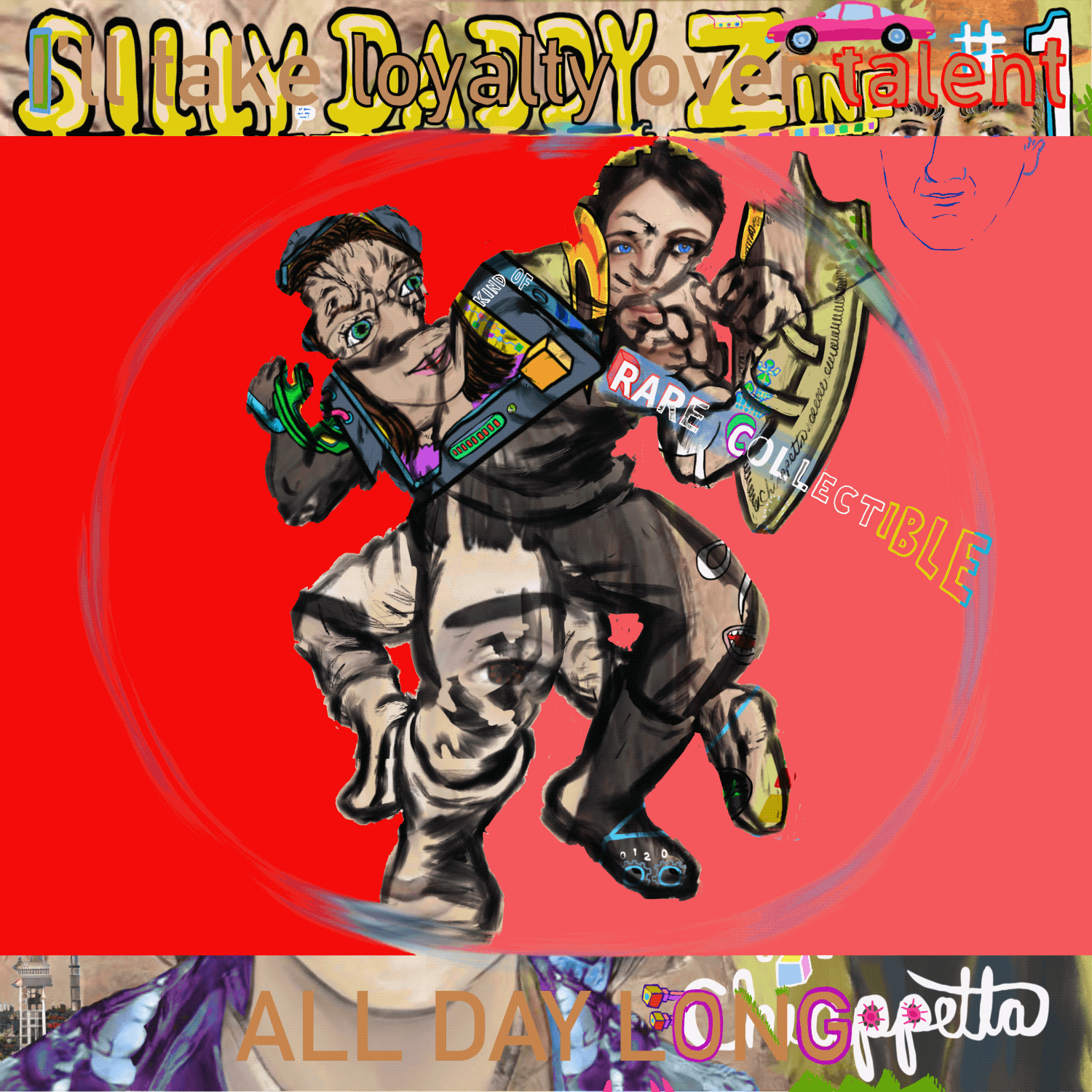 Loyal Daddy
is rare digital art by Joe Chiappetta, available on
Atomic Hub
.
Despite the challenges of emerging artists struggling to make significant impact, artists are flocking to release new works on rare digital art markets in ever-increasing numbers. Naturally, due to the sad difference between supply and demand, as I alluded to previously, most of these artists will not sell anything there, and will soon leave the market discouraged. Some, in bitterness, may even spread a bad report about the true innovation going on in this still growing space, but don't be deceived; the best is still yet to come!
Next Steps for Rare Digital Art Markets
So what's the solution to increase demand for this kind of art? A higher quantity of serious art collectors will need a number of good reasons to jump into the rare digital art market. That's because the experience of collecting most digital art (rare or otherwise) is often--for lack of a better term--anticlimactic. It is hardly a social activity since collectors typically buy their art alone on their computers--with absolutely no fanfare. I know this because that is what I do as an art collector.
Aside from the excitement of in-person rare digital art auctions, which are few and far between, why does collecting rare digital art hover on the sometimes anticlimactic side? It is actually a design problem. For most web sites selling rare digital art, the pieces are almost always offered in a visually dull grid layout. This is basically a 2-D catalog experience. Such design conventions have not changed since the mail order days which showcased department store catalogs of centuries gone by. That's not much different than scrolling through an
Instagram art feed
. Things really must change, and they can.
Gratefully, we have the technology to make those changes now. Online galleries who move to a virtual 3-D exhibit experience can be the ones who can stay relevant in an increasingly digital world. As art-seeking and collecting becomes more of a game environment, more people will get excited about it.
The
WAX
community, and in particular the
Atomic Hub Marketplace
, is doing an incredible job at making 2-D rare digital art galleries fun, gamified, and incredibly user friendly. In fact, Atomic Hub has a "bundle" feature that allows collectors to buy multiple pieces of art in the same transaction. I liken it to the coolness and excitement of being a kid and buying a pack of trading cards.
Digital Art Needs a Multidimensional Digital World by Joe Chiappetta. It's rare digital art available on MakersPlace.
Another example of innovation is the unlockable content feature for owners of rare digital art. MakersPlace and a growing number of other rare digital art markets have this feature. I used this feature to release my newest book,
Silly Daddy Zine #1
. Here's how it works: everyone can just see the cover of the book. But only those who buy it as rare digital art gain access to download the 50 page book. This unlockable download for owners is one of the most exciting new features in the industry, providing more incentive for further adoption.
Silly Daddy Zine #1

is rare digital art and a 50-page book by Joe Chiappetta, available on

MakersPlace

.
Looking to the future, the next bold step is to migrate the best of these current rare digital art markets, like
MakersPlace
and
Atomic Hub
, onto one virtual 3-D world that is only somewhat similar to Minecraft, Decentraland, Cryptovoxels, or Somnium Space. I say
"only somewhat similar to..."
because none of those sites have all of the below essential features:
VR Art Gallery Essentials
Exhibitors earn the rights to virtual 3-D land and wall space by purchasing affordable rare digital art in this world.
The virtual 3-D land to have gallery space will always be cheap and not manipulated by early speculators trying to drive up the price of land.
The virtual land borders keep expanding as more users exhibit in the space. Like the internet, where users can make an unlimited amount of new web pages, the same goes for wall and land space. More gets created as more is needed.
Collectors can explore, exhibit their collections, and still buy and sell art all in a 3-D realm.
The virtual 3-D gallery can be explored without a VR headset, plus users can buy and sell art without a headset too.
The virtual 3-D gallery world has a 2-D auto-generated counterpart for those with slower technology.
The 3-D world and its members have a code of conduct that adheres to the moral standard outlined in the FCC's guidelines and is a kid-friendly environment.
Users can create individualized exhibit space right in the 3-D environment without any coding knowledge. All necessary virtual building materials are available for free.
A few non-essential, yet more flashy premium gallery building materials are earned by those who buy a high volume of rare digital art, or complete defined and helpful tasks to advance the community.
Users can teleport to any location in the "world" quickly and easily. These links work in-world and also as links on a regular website.
Users can customize their own avatars.
The gallery does not issue its own new cryptocurrency, but rather leverages existing and widely adopted currencies. The art and art experience is the product, not another alt-coin.
Transactions to buy and sell art in the 3-D virtual environment can be done via credit card, PayPal, or existing crypto such as Bitcoin, Ethereum, EOS, and WAX. These cryptocurrencies are mentioned as they all have an existing and established track record of being used in current art markets. By default, financial actions on the site should be using blockchains that have no transaction fees to use the network.
No sign-in is needed to view and explore this world.
Open standards are used to foster as much continued development and international collaboration as possible. Perhaps Blockchain Game Alliance can help make this happen since they are a diverse professional coalition from a variety of blockchain and gaming platforms.
The environment also has 3-D games that a user can play--kind of like walking through a carnival; there's a game booth, and next to it is an art booth, including a collaborative VR drawing space, like a VR version of Dada.art. Prizes won in the game booth can include rare digital art. As an added example, imagine being able to play a great rare digital art shooter game called Spells of Genesis in a multiplayer 3-D universe and receive game points, crypto, or rare digital art as your winnings!
This VR cryptoart world should also have built-in user-to-user messaging (perhaps through secure chat), audio capabilities, and parental controls.
Designed as an ever-expanding World's Fair of Online Art, collectors can seamlessly use their avatars to explore a 3-D version of contemporary high-end Expressionist art from various galleries on one virtual block, perhaps on a street called Emotional Way. Then they would turn a corner and walk down Budget-Buy Boulevard, where all rare digital art is no more expensive than a bottle of water.
Such a site should also have a daily virtual newspaper, which aggregates relevant art news from this realm and sends it to members who subscribe. This would be things like how many new pieces of art were sold, created, who collects the most art, who releases the most art, who sells the most art, who has spent a lot of time on the site yet is not receiving many gallery visitors, who refers the most new users to the site through a referral code... kind of like a game leader board, but also designed to help everyone.
Site should have the ability for creators to upload new rare digital art of their own creation to be displayed on exhibit space owned by the artist. The operators of the site would take a commission on these sales and artist would receive the bulk of the sales. The artist could also receive a percentage of the resale commission on all secondary market sales if made via blockchain through the platform.
While it must be acknowledged that some VR art galleries are already operational (and have been for years), most just feature artists creating VR experiences as an isolated piece, not other kinds of art, and not connected to a whole VR world. Additionally, few of these galleries use cryptocurrency, none of them are household names, and they're all fragmented realms. More importantly, none of the existing sites have even a fraction of the features numbered above. Yet this is what is needed for wide consumer adoption.
That's not to say that existing VR galleries are failing or prospering; the data on that is not easily available (or reliable). Yet like the rest of the art world, these sites are typically siloed, many requiring expensive hardware to view (while this same hardware will be obsolete in a few years), and most of the existing VR galleries are hustling to make an individual name for themselves. There's nothing wrong with hustling to self-promote, but much effort must also be spent on collaborating to build a unified virtual art fair experience.
Consider this analogy as the current state of VR art galleries: disconnected food trucks with delicious food, yet non-uniform procedures exist at random, hard to find parking lots, while what is really required is a cohesive international full service food court. A combination of the above-listed elements could create a very compelling art environment that would be unprecedented, and perhaps even become the "Ready Player One" artistic universe of tomorrow... yet live in our own time. It would inspire many repeat customers, delighted to explore a dynamic virtual art market in an exciting and gamified role as art collectors, art-seekers, and new art pioneers.
Joe Chiappetta
http://SillyDaddy.net