Where Art, Science, and the Scriptures Converge... at the Intersection of Bible Math!
In addition to being an in-depth article below, Bible Math is rare digital art by Joe Chiappetta available at pixEOS Art Gallery. The base layer of this artwork is my teen daughter's Christmas wish list, which I doodled over in the months that followed. I find it very fitting, that the wish list of my dear child is the underlying layer to artwork that represents the wishes of God in the form of Bible Math, as well as the wishes embedded into Energy Cloud City, which is a Canadian smart city design that I consulted on.
Energy Cloud City™ art commissioned at the 2019 Toronto Futurist Conference by pioneering green energy infrastructure developer North America General Contractor (NAGC)
BIBLE MATH
Joe Chiappetta, May 3, 2020 (
Updated June 1, 2020
)
Introduction: The Genesis of Bible Math
This article (and accompanying animated artworks) came about in a most-riveting, creative, and spiritual way. For over two decades, I have been leading weekly Bible Discussion Groups and studying the Bible with people on an individual mentoring level. In the course of these spiritual adventures, as part of the
City of Angels International Christian Church
, I am typically delighted to share the gospel with all who are willing to listen and put the word of God into practice. Such delight is especially true of the following Bible study.
Recently one of the invited attendees of our Bible Discussion Group, my friend, colleague, and quantum mathematician, Dave D'Silva, in the course of his ongoing development of Energy Cloud City™ (which you can read more about at
http://energycloudcity.com/
) asked me a pivotal question;
"Can you think of any scriptures where the Bible talks about mathematics in a quantum or value-added manner?"
Side-note: What Dave wanted was a combination of (a) what I thought of quantum, the etymological Latin roots coming from quantus, meaning "how great", and (b) Dave's quantum mechanical mathematical perspective, where he was referring to the hypothesis of quantization as illustrated with Feynman Diagrams.
Almost without hesitation, I said
"Yes"
to Dave's electrifying question--with great excitement. And the rest was pure joy and discovery into the remarkable world of
Bible Math
. Intuitively, I knew this was going to become a rewarding nexus where science, scriptures, creativity, and friendship would converge into one heightened adventure.
Bible Math 2 is rare digital art by Joe Chiappetta available at pixEOS Gallery.
As a backdrop to wade into the vast depth of this
Bible Math
project, Dave and I spent some time talking about his incredible smart city plan known as Energy Cloud City. He approached me with a request to see which Bible passages may exist that would be applicable as support references to the ethical city planning he wrote into the Energy Cloud City design. In essence, I consulted with Dave to reverse-engineer the parables and preaching of Jesus, identifying how the miraculous math of God leads everywhere from power grids to power prayers.
It is interesting to note the multiple functionalities of this mind and spirit-expanding experience.
Bible Math
was written, on one hand so I could simply study the Bible with my friend Dave, because that is what Christians like me do: study the Bible with people to help them apply God's word to our lives. On the other hand,
Bible Math
congealed into an additional purpose: to help explore and fulfill the destiny of Energy Cloud City's origins as per Dave's request. Together with Qing Chang, who is my brother-in-Christ, diligent researcher, and very insightful Chinese doctor, Dave, Qing and I looked at where relevant scriptures can be applied to smart city design--either as practical nuggets of design wisdom, behavioral guidelines, beacons of faith, or as metaphors of civic inspiration.
Qing Chang: Agent of Bio Energy Currency is rare digital art by Joe Chiappetta on MakersPlace.
After doing art, science, and scripture research for a number of days with Dave and Qing, I came up with two loud and humbling conclusions:
Energy Cloud City, once built, will be a physically magnificent oasis and wonderful destination that serves as a magnet for futuristic technology, smart living, and Biblical ethics... and I, by the grace of God, played an important part in this city's development.
The Bible, which I already knew as entirely awesome, is even more awesome!
Bible Math Metropolis is rare digital art by Joe Chiappetta available on SuperRare.
The mathematics of the Bible is not the typical math learned in most schools; it's better by far. Indeed, the math described throughout the scriptures is more empowering, more liberating, more inspiring, and full of more life-enhancing formulas than all the other math books combined. This is not to say that the Bible is merely a math book; the Bible is the way to know who we are, who God is, as well as how to love God and love each other.
Additionally, the way the Bible touches on mathematics is soothing to the soul, giving light to the eyes, and even reviving the dead. Below are some incredible examples. They should help us see that
Bible Math
not only adds up perfectly, it also is designed to multiply in each reader a faithful, joyful, healthy, and productive outlook on life, now and forevermore!
Time with God is rare digital art by Joe Chiappetta on pixEOS Gallery.
Relationship with God
Jeremiah 29:11-14
[11] "'For I know the plans I have for you,' declares the LORD, 'plans to prosper you and not to harm you, plans to give you hope and a future. [12] Then you will call upon me and come and pray to me, and I will listen to you. [13] You will seek me and find me when you seek me with all your heart. [14] I will be found by you,' declares the LORD, 'and will bring you back from captivity. I will gather you from all the nations and places where I have banished you,' declares the LORD, 'and will bring you back to the place from which I carried you into exile.'"
1 component of relationship with God involves praying to him.
God is a great planner and listener.
Finding God requires 100% of your heart.
99% is not sufficient.
God has prosperous plans for those who seek him with 100% of their heart.
Seeking God with 100% of your heart = freedom from captivity.
A hopeful future and prosperity requires a specific spiritual velocity: 100% of your heart.
Detail illustrating prayer from Victory of the Spiritual Mind by Joe Chiappetta, which is rare digital art available on MakersPlace.
2 Chronicles 16:9
"For the eyes of the LORD range throughout the earth to strengthen those whose hearts are fully committed to him...."
When at full commitment (100%), more power is given.
100% capacity (with God) leads to 100%+ capacity.
100% + God = 101% (or more)
Psalms 37:4-6
[4] "Delight yourself in the LORD and he will give you the desires of your heart. [5] Commit your way to the LORD; trust in him and he will do this: [6] He will make your righteousness shine like the dawn, the justice of your cause like the noonday sun."
Happiness does not come from serving self.
Happiness comes from delighting in the Lord.
Becoming sincerely delighted about the Lord results in receiving the deepest gifts.
Lasting success and justice are the byproducts of great relationship with God.
Repositioning your way to the Lord's way is the key to renewable, incredibly bright energy.
When directed at God (not self), Delight + Commitment + Trust = Radiant Victory.
1 John 3:16
"This is how we know what love is: Jesus Christ laid down his life for us. And we ought to lay down our lives for our brothers and sisters."
Love is measurable; it can be tracked.
Love is quantifiable in who is willingly laying down their life to benefit others.
Prior to his resurrection, Jesus laid down his life for us; he became nothing.
1 - 1 = 0
1 - 1 = Love
Knowing about Jesus' selfless love should inspire us to love him and others more.
Subtracting self can be a demonstration of love; it can improve relationships.
John 10:10
"The thief comes only to steal and kill and destroy; I have come that they may have life, and have it to the full."
Jesus came to show and give us "life to the full."
Life to the full = 100% Life.
Without receiving what Jesus gives his disciples, people operate much below 100%.
Other entities not aligned with Jesus ("the thief") rob and destroy life. So if a person is operating at 75% and is influenced by "the thief," they drop lower, even to 0.
Without Jesus, those at 75% Life may not even realize that there is so much more to life. They may falsely think their current percentage is 100%. But their math does not add up to the Bible.
Only with Jesus do we reach full capacity of existence, as in 100% Life.
Faith
Proverbs 12:14
"From the fruit of their lips people are filled with good things, and the work of their hands brings them reward."
Just as God spoke life into existence from nothing, a person can speak good things (rewards) into existence.
0 good things + fruitful speech = many good things.
Go from zero to rewards with a change in attitude: faithful, joyful.
See the importance of encouraging words.
Luke 1:31-37
The angel Gabriel speaking with Mary
[31] "'You will be with child and give birth to a son, and you are to give him the name Jesus. [32] He will be great and will be called the Son of the Most High. The Lord God will give him the throne of his father David, [33] and he will reign over the house of Jacob forever; his kingdom will never end.'
[34] 'How will this be,' Mary asked the angel, 'since I am a virgin?'
[35] The angel answered, 'The Holy Spirit will come upon you, and the power of the Most High will overshadow you. So the holy one to be born will be called the Son of God. [36] Even Elizabeth your relative is going to have a child in her old age, and she who was said to be barren is in her sixth month. [37] For nothing is impossible with God.'"
With God, nothing is impossible.
With God everything is possible.
With God, all typically "fixed" math formulas are not fixed; the formulas are fluid, the numbers are fluid. It is all variable--with God.
Aligning things entirely with God's ways creates new (and seemingly impossible) possibilities.
Faith + Jesus = Anything
Matthew 9:27-30
[27] "As Jesus went on from there, two blind men followed him, calling out, 'Have mercy on us, Son of David!'
[28] When he had gone indoors, the blind men came to him, and he asked them, 'Do you believe that I am able to do this?'
'Yes, Lord,' they replied.
[29] Then he touched their eyes and said, 'According to your faith let it be done to you';
[30] and their sight was restored...."
Our faith influences what Jesus allows to happen.
Our faith is a catalyst that enables things to "be done to" us.
Jesus' statement "according to your faith," shows that faith can be measured.
What people believe matters and it can be quantified.
Reality is interactive, dependent upon Jesus and what people believe.
Faith creates new reality.
Creation, stagnation, and destruction are all relative--according to belief.
Those who get closest to Jesus reap the greatest benefits through their positive faith and relationship with Jesus.
The men in this passage saw their need for Jesus, aggressively pursued him, got close to him, believed specific, measurable good things were in store for them through Jesus, verbalized their faith in him repeatedly, and therefore through Jesus, "their sight was restored."
Don't think the "according-to-your-faith" principle is always to your personal benefit. Having a positive faith last week does not mean you have that faith today. Such a faith must be nurtured, maintained, and even expanded upon. If you've been close to Jesus yet you believe negative things will happen to you... your negative faith can influence a negative outcome. In other words, according to your lack of faith, your worries will actualize and "be done to you." See my book "Mental Health and Holiness" for much more on this topic.
Word of God
Hebrews 4:12-13
[12] "For the word of God is alive and active. Sharper than any double-edged sword, it penetrates even to dividing soul and spirit, joints and marrow; it judges the thoughts and attitudes of the heart. [13] Nothing in all creation is hidden from God's sight. Everything is uncovered and laid bare before the eyes of him to whom we must give account."
Just as scientists rely on precise instruments for measurement, so does God.
God's instrument is the "word of God," which is the Bible.
God gives us this instrument (the Bible) to measure ourselves accurately, and then help others do the same.
The Bible is not a dead book. It is living.
Just as a person cannot look at a living being once and fully know all about that being, the same is true for the Bible. Since it is the only living book in existence, continual interaction with the Bible is needed.
The Bible is "active," which can also be translated as "effective." It's a living interactive tool that--when used properly--works powerfully.
The Bible is powerful: sharper than a 2-edged sword, it cuts both ways.
Like a surgeon's scalpel when removing cancer, the Bible hurts, yet also heals, as it removes the sinful behavior.
The Bible judges our innermost thoughts and attitudes.
Our life will be measured (judged) against the living Bible.
The Bible measures deeper than all other instruments.
The Bible is a living measurement tool.
We are accountable to God through the living Bible.
Matthew 15:1-9
[1] "Then some Pharisees and teachers of the law came to Jesus from Jerusalem and asked, [2] 'Why do your disciples break the tradition of the elders? They don't wash their hands before they eat!'
[3] Jesus replied, 'And why do you break the command of God for the sake of your tradition? [4] For God said, "Honor your father and mother" and "Anyone who curses his father or mother must be put to death." [5] But you say that if a man says to his father or mother, "Whatever help you might otherwise have received from me is a gift devoted to God," [6] he is not to 'honor his father' with it. Thus you nullify the word of God for the sake of your tradition. [7] You hypocrites! Isaiah was right when he prophesied about you:
[8] 'These people honor me with their lips, but their hearts are far from me. [9] They worship me in vain; their teachings are merely human rules.'"
Human tradition, even if coming from top religious leaders, can be wasteful ("in vain") when it takes Biblical teaching out of context.
Blending human tradition with the Bible can cancel out ("nullify") the true meaning of the Bible.
Using a Bible verse improperly leads to hypocrisy.
1 Bible verse + 1 human rule counter to the heart behind the Bible = 0 Bible verse.
Not all traditions lead to growth. Some lead to great loss.
Worship by tradition (rather than the Bible in context) = worship in vain.
Proverbs 4:20-22
[20] "My son, pay attention to what I say; listen closely to my words. [21] Do not let them out of your sight, keep them within your heart; [22] for they are life to those who find them and health to a man's whole body."
Close listening involves careful attention and observation--like science.
Retained and obeyed words of God = life and bodily health.
Bible = Wellness.
Health requires personal attention and spiritual focus on a heart level.
Rock Solid Sword of the Spirit is rare digital art by Joe Chiappetta on pixEOS Gallery. This piece started as a drawing on a 10 inch flat rock at El Matador Beach in Malibu, California, using ink and chalk, illustrating Ephesians 6:17. I find it extra-fitting that "matador" means "killer," in Spanish, as the Sword of the Spirit--which is the Word of God--is meant to help each of us put to death (kill) our own sinful behavior, using the Bible.
Ephesians 6:17-18
[17] "Take the helmet of salvation and the sword of the Spirit, which is the word of God. [18] And pray in the Spirit on all occasions with all kinds of prayers and requests. With this in mind, be alert and always keep on praying for all the saints."
Relationship with God gives tools of protection and power, including "the helmet of salvation and the sword of the Spirit."
The sword of the Holy Spirit is the word of God: the Bible.
Sword of the Spirit = Word of God. The Word of God = Bible. Therefore, Sword of the Spirit = Bible.
There's only 1 particular book described as a spiritually good weapon: the Bible.
Main spiritual weapon of goodness = Bible.
To use a sword properly and effectively, it takes training.
Are you training in the Bible?
How well do you know the Bible? People who have fought with swords and survived know how that feels in their hands, body, and mind. A person won't know how to use the Bible well unless the spend a lot of time handling it properly. In other words, an existing disciple of Jesus needs to train you.
Fight to win spiritual victories using the Bible.
One of the main ways God makes himself known is through the Bible, which is measurable and verifiable, using written words in the most translated book of all time.
We are commanded to "take" the Bible and use it, as in "take hold of it, take it in hand, accept and learn it." Someone who does not know the Bible is spiritually at an extreme defensive disadvantage.
God, as the Holy Spirit, speaks to people today through the Bible.
Pray through the purifying filter of the scriptures. That's praying in the Spirit. In other words, know what the scriptures say so you can align your requests with biblical wants and needs.
100% Time in Prayer + 100% Types of Prayer Requests + Praying for 100% of Jesus' Disciples = Biblical Prayer Life.
100% prayer and application of the scripture takes an alert mind.
Get strength from your relationship with God.
God, our designer, knows that the way to transform is to become a lifelong prayer warrior.
Bible Math Path is rare digital art by Joe Chiappetta available on SuperRare. This illustration is a spiritual cartoon info-graphic and math formula of what Jesus says in John 8:31-32.
John 8:31-32
[31] "To the Jews who had believed him, Jesus said, 'If you hold to my teaching, you are really my disciples. [32] Then you will know the truth, and the truth will set you free.'"
Jesus is speaking to those who believe him. Belief is essential, yet not the only requirement.
Holding to Jesus' teaching = Obey Jesus.
The word "disciple" means a student with an attachment to the teacher and what the teacher teaches.
To be Jesus' disciple, a person must believe and obey.
People who sincerely believes Jesus, yet do not obey, are sincerely wrong. Such people, even if devoutly religious, like the people in this passage, do not have "the truth." So religious people can be completely sincere about what they believe, yet sincerity does not equal truth.
Sincerity ≠ Truth.
Believe + Obey = Disciple.
A person can't hold to Jesus' teaching if that person does not know what the Bible says.
Many believe some of what the Bible says and just focus on a few of the popular promises of God. So they hold to Jesus' promises, yet not to Jesus' commands. In other words, too many of these people don't hold to what Jesus actually teaches; they don't obey. That's like an employee holding onto a catchy company jingle or slogan without knowing what the company actually is all about. Holding onto promises that are only applicable to Jesus' obedient disciples will not make a person into a student of Jesus. Therefore, under Jesus' definition, such disobedient people are not disciples, don't know truth, and are not free.
Everyone wants truth and freedom. Many think they have truth and freedom. Yet these only come to Jesus' disciples. The rest are deceived, as can be seen by reading the rest of John 8. Many think they are Jesus' disciples yet they are not "really" his disciples. Sadly such people also don't have the truth and are not free.
By itself, Belief ≠ Disciple.
Belief ≠ Truth
Belief ≠ Freedom
Believe + Obey = Disciple → Truth → Freedom.
The Trinity
The Bible describes a remarkable principle about God that has come to be known as the Trinity. That's where God is made known (or manifested) as 3 beings: Father, Son, and Holy Spirit... while simultaneously God is completely also 1 unified being. These concepts may stretch our minds, yet that is what God intended. In fact, if one were to take a detour into scientific concepts such as quantum superposition, quantum tunneling, quantum coherence, and quantum entanglement, it could actually help a person to understand the Trinity even more.
That's because our observable physical world (with just the naked eye) behaves somewhat differently when peering deep and tiny into quantum levels. Energy, life, and things are more fluid and transferable in the quantum realm. The same can be said of the spiritual realm and the Bible has been revealing this throughout the ages.
Trinity Tricycle is rare digital art by Joe Chiappetta on MakersPlace. The drawing is meant to illustrate aspects of the Trinity principle from the Bible, where God manifests himself as 3 beings (Father, Son, and Holy Spirit), yet these beings are all 1 totally united deity.
Consider the following 3 verses together to get a clearer picture of the 3 = 1 God principle from the Bible.
2 Corinthians 13:14
"May the grace of the Lord Jesus Christ, and the love of God, and the fellowship of the Holy Spirit be with you all."
...Combined with...
Romans 5:9
"You, however, are controlled not by the sinful nature but by the Spirit, if the Spirit of God lives in you. And if anyone does not have the Spirit of Christ, he does not belong to Christ."
...Combined With...
Galatians 3:20
"A mediator, however, does not represent just one party; but God is one."
These verses show the nature of the Trinity: God is 1 and God is 3.
The Holy Spirit, the Spirit of God, the Spirit of Christ are all mentioned here. The Father, Son, and Holy Spirit are 3... and they are 1.
The idea of being in many different places at once is central to the modern field of quantum mechanics, yet it's an ancient concept described throughout the Bible in the theme of the Trinity.
Trinity math is not typical math.
1 + 1 + 1 = 1 and 3 = 1 and/or 3 = 3.
Math formulas and outcomes are relative to God.
Love
1 Corinthians 13:1-3
[1] "If I speak in the tongues of men and of angels, but have not love, I am only a resounding gong or a clanging cymbal. [2] If I have the gift of prophecy and can fathom all mysteries and all knowledge, and if I have a faith that can move mountains, but have not love, I am nothing. [3] If I give all I possess to the poor and surrender my body to the flames, but have not love, I gain nothing."
The extreme importance of love is elevated above all other magnificent actions.
Great Linguistics - Love = Loud Repetitive Nonsense
Great Faith - Love = 0
Great Knowledge - Love = 0
Great Sacrifice - Love = 0
100 % Giving to the Poor - Love = 0
Worldly greatness in any area, if it is without love, is a 0 sum gain. In fact, that's a great loss.
Bible Math Love by Joe Chiappetta is rare digital art available on MakersPlace. This illustration started as a landscape Pacific Ocean scene that I drew at El Matador Beach in Malibu, California. It depicts a portion of the Bible Math project, where 1 Corinthians 13:8 shows that "Love never fails." This means that when applying the biblical love that God defines, we can expect 0 failure, and therefore, 100% success.
1 Corinthians 13:4-8
[4] "Love is patient, love is kind. It does not envy, it does not boast, it is not proud. [5] It is not rude, it is not self-seeking, it is not easily angered, it keeps no record of wrongs. [6] Love does not delight in evil but rejoices with the truth. [7] It always protects, always trusts, always hopes, always perseveres.
[8] Love never fails. But where there are prophecies, they will cease; where there are tongues, they will be stilled; where there is knowledge, it will pass away."
Notice that the biblical definition of love is not the typical definition of love made popular by many worldly movies and magazines, where love is highly correlated to physical beauty.
Love = Patience
Love = Kindness
Love + Envy = 0 Love
Love + Boasting = 0 Love
Love + Pride = 0 Love
Love + Rudeness = 0 Love
Love + Self-Seeking = 0 Love
Love + Easily Angered = 0 Love
Love + Record of Wrongs = 0 Love
Love + Delight in Evil = 0 Love
Love = Rejoice with the Truth
Love = 100% Protection
Love = 100% Trust
Love = 100% Hope
Love = 100% Perseverance
Since "love never fails," that means it has a 0% failure rate. With biblical love, a loving person will always succeed. Conversely, those who are unloving quite often will fail quite often.
Someone who thinks they are loving, yet fails often is not practicing love as defined by the Bible. Therefore look at your current relationships; where you see the failures is where you'll likely find lack of biblical love. In this way, the Bible is a tool to measure love through relationships.
Love = 100% Success
Selflessness
John 12:23-26
Seed that Dies
[23] "Jesus replied, 'The hour has come for the Son of Man to be glorified. [24] I tell you the truth, unless a kernel of wheat falls to the ground and dies, it remains only a single seed. But if it dies, it produces many seeds. [25] The man who loves his life will lose it, while the man who hates his life in this world will keep it for eternal life. [26] Whoever serves me must follow me; and where I am, my servant also will be. My Father will honor the one who serves me.'"
No true multiplication without great sacrifice, selflessness.
Jesus (the kernel of wheat) died for our sin, only to resurrect and "produce many seeds," as in many disciples who are grateful for his sacrifice.
Die (become zero) to produce many.
1 - 1 (for God) = 0. Then 0 + God = Multiples.
0 → 1 → Many
0 → Many
This formula leads to a legacy of multiplication as well as "honor" and "eternal life."
We need to "die" to our old sinful life to become new in Christ and call others to this new life.
Resurrection Math is rare digital art by Joe Chiappetta on MakersPlace.
Luke 9:23-25
[23] "Then he said to them all: 'Whoever wants to be my disciple must deny themselves and take up their cross daily and follow me.
[24] For whoever wants to save their life will lose it, but whoever loses their life for me will save it.
[25] What good is it for someone to gain the whole world, and yet lose or forfeit their very self?'"
Denying self is saying "no" to what you want and "yes" to what Jesus wants.
Just as Jesus carried his cross for our sin, we need to crucify our sinful behavior every day.
Losing your life (becoming 0) for Jesus is the way to save your life.
Becoming 0 is essential to salvation.
In opposite manner, gaining the whole world will lead to losing your soul and salvation. In this case, a positive can really be a negative. The worldly positive (+) becomes a spiritual negative (-).
Where N represents a non-Christian: N → -N
Where X represents Jesus' disciple: -X → X
Luke 14:31-33
[31] "Or suppose a king is about to go to war against another king. Will he not first sit down and consider whether he is able with ten thousand men to oppose the one coming against him with twenty thousand? [32] If he is not able, he will send a delegation while the other is still a long way off and will ask for terms of peace. [33] In the same way, any of you who does not give up everything he has cannot be my disciple."
Give up everything. Those are the terms of peace.
10,000 x 0 = 20,000.
Peace is found in becoming zero; full submission to God.
Giving up "everything" actually does mean everything. People (self included) have a history of making their careers, goals, and/or money the center of their life and these areas become what is worshiped. That is known as a false god which we must "give up" to follow Jesus. He must become the absolute solid center of our lives. This does not necessarily mean to quit your job. Yet stop making the job your god. Worshiping Jesus unifies people under 1 king in God's peaceful kingdom.
The Blind Demon of Crypto Art is rare digital art by Joe Chiappetta on MakersPlace. It touches on Jesus' call to "give up everything," and serves as an illustration to fight the worldly desire to be devoted to anything that gets in the way of worshiping God.
Growth
Isaiah 60:21-22
God's Plan for the Righteous People in the Light
[21] "Then will all your people be righteous and they will possess the land forever. They are the shoot I have planted, the work of my hands, for the display of my splendor.
[22] The least of you will become a thousand, the smallest a mighty nation. I am the LORD; in its time I will do this swiftly."
"All your people," as in 100% of the people who follow God, will be made righteous by him.
Godly people are the planting and work of God, not the work of our own planting. Don't take credit for God's work. Rather, in humility, call attention to God's work so more people can see God's splendor displayed.
With God, even the weakest person can multiply to 1,000.
1 + God + Time = 1,000.
1 → 1,000.
1 Small Godly Person → 1 Mighty Nation.
God multiplies his people swiftly, yet it happens on his timetable, not ours.
Mark 4:1-20
The Parable of the Sower
[1] "Again Jesus began to teach by the lake. The crowd that gathered around him was so large that he got into a boat and sat in it out on the lake, while all the people were along the shore at the water's edge. [2] He taught them many things by parables, and in his teaching said: [3] 'Listen! A farmer went out to sow his seed. [4] As he was scattering the seed, some fell along the path, and the birds came and ate it up. [5] Some fell on rocky places, where it did not have much soil. It sprang up quickly, because the soil was shallow. [6] But when the sun came up, the plants were scorched, and they withered because they had no root. [7] Other seed fell among thorns, which grew up and choked the plants, so that they did not bear grain. [8] Still other seed fell on good soil. It came up, grew and produced a crop, multiplying thirty, sixty, or even a hundred times.'
[9] Then Jesus said, 'He who has ears to hear, let him hear.'
[10] When he was alone, the Twelve and the others around him asked him about the parables. [11] He told them, 'The secret of the kingdom of God has been given to you. But to those on the outside everything is said in parables [12] so that, "they may be ever seeing but never perceiving, and ever hearing but never understanding; otherwise they might turn and be forgiven!'''
[13] Then Jesus said to them, 'Don't you understand this parable? How then will you understand any parable? [14] The farmer sows the word. [15] Some people are like seed along the path, where the word is sown. As soon as they hear it, Satan comes and takes away the word that was sown in them. [16] Others, like seed sown on rocky places, hear the word and at once receive it with joy. [17] But since they have no root, they last only a short time. When trouble or persecution comes because of the word, they quickly fall away. [18] Still others, like seed sown among thorns, hear the word; [19] but the worries of this life, the deceitfulness of wealth and the desires for other things come in and choke the word, making it unfruitful. [20] Others, like seed sown on good soil, hear the word, accept it, and produce a crop--thirty, sixty or even a hundred times what was sown.'"
1 seed + good soil → 30, 60, or 100.
1 person + understanding Bible + producing for God → 30, 60, or 100.
Forgiveness from God (verse 12) is also a byproduct of this formula.
Satan, worries, lack of perseverance, lack of depth, being deceived by wealth, and desires for other things block this formula, causing it to hold at only 1 or reducing it to 0.
Math in the Bible is highly interactive and variable, dependent on God plus what people do with his word.
Matthew 28:19-20
Jesus Speaking to the 11 Disciples
[19] "Therefore go and make disciples of all nations, baptizing them in the name of the Father and of the Son and of the Holy Spirit, [20] and teaching them to obey everything I have commanded you. And surely I am with you always, to the very end of the age."
Jesus wants people of all nations to have the opportunity to be made into his disciples. No racism. International scope (all nations) becoming 1 unified group "in the name of" Jesus.
Every member is "taught to obey." Therefore every member becomes a disciple-maker.
Disciple means student, and the students also must teach to obey. Shows dual nature of discipleship: from one angle, disciple is a student; from another angle, disciple is teacher.
Lifelong student, lifelong teacher simultaneously.
Using Jesus' model leads to exponential growth.
Using Jesus' model, if every committed disciple makes 1 disciple per year, assuming you start with just 1 disciple, in 33 years there will be 8.5 billion disciples (more than the current world population).
1 + 11 → 8.5 billion
This is the way to save the world: the way for Jesus to be "with you always, to the very end of the age."
Acts 5:38-39
Jesus' Apostles Defended by Gamaliel
[38] "Therefore, in the present case I advise you: Leave these men alone! Let them go! For if their purpose or activity is of human origin, it will fail. [39] But if it is from God, you will not be able to stop these men; you will only find yourselves fighting against God."
The phrase, "it will fail," is also translated as "come to nothing."

Activities merely "of human origin" eventually come to nothing: to 0.
When God is behind activities, they are unstoppable. They maintain a positive number.
Some fight against God, even when the math shows that they should not do so.
If you want your activities to stay positive (not going to zero), make sure God is behind what you do.
1 Timothy 6:3-10 Godliness and Contentment v Love of Money
[3] "If anyone teaches false doctrines and does not agree to the sound instruction of our Lord Jesus Christ and to godly teaching, [4] he is conceited and understands nothing. He has an unhealthy interest in controversies and quarrels about words that result in envy, strife, malicious talk, evil suspicions [5] and constant friction between men of corrupt mind, who have been robbed of the truth and who think that godliness is a means to financial gain.
[6] But godliness with contentment is great gain. [7] For we brought nothing into the world, and we can take nothing out of it. [8] But if we have food and clothing, we will be content with that. [9] People who want to get rich fall into temptation and a trap and into many foolish and harmful desires that plunge men into ruin and destruction. [10] For the love of money is a root of all kinds of evil. Some people, eager for money, have wandered from the faith and pierced themselves with many griefs."
Not agreeing "to the sound instruction of our Lord Jesus Christ" = 0 Understanding.
0 Bible Application = 0 Understanding
Godliness means piety toward God, reverence, respect, holiness, humility.
Contentment is a perfect condition of life in which no additional aid or support is needed. It is a sufficiency of the necessaries of life and produces a mind satisfied with its lot.
The way to be godly and content is found in the Bible.
Maintaining godliness while also being content is the formula for incredible growth and acquisition, also known as "great gain."
If we make a scale where "gain" is 50% growth, "good gain" is doubling (2x), and "great gain" is tripling (3x), then we get this equation: Godliness + Contentment = 3x Growth or more.
The catch is this: for "people who want to get rich," the entire equation falls apart, as wanting "to get rich" is the opposite of godliness as well as contentment. In fact, as a goal, wanting to get rich = falling into temptation, a trap, harmful desires, ruin, and destruction.
Money is neither evil nor good. However, loving money is the deepest (root-level) evil.
Love of Money = Root of all kinds of Evil.
Being "eager for money" can cause a person to "wander from the truth," and inflict self-harm, reflected in this formula: Godly Intent + Desire to Get Rich = Destruction.
Notice that this verse is not about actually having money. So a person can have very little money yet still have a "love of money" and this be ruined.
How we think about money completely dictates our level of contentment or destruction.
The way to grow in all areas of life is therefore to desire godliness and contentment, not money. Using and maintaining this model, in addition to gaining godliness and contentment, enough necessities (such as money) will be procured along the journey, simply as a byproduct of following God.
A Time for Everything is rare digital art by Joe Chiappetta available on SuperRare. This artwork started out as a temporary sculpture made completely of found natural objects in the foothills of the Angeles National Forest in Altadena, California. The final digital animation is meant to illustrate Ecclesiastes 3:1-3, which describes so poetically how there is a time and a season for everything under heaven, and it all has so much to do with addition and subtraction.
Ecclesiastes 3:1-3 A Time for Everything
[1] "There is a time for everything,
and a season for every activity under heaven: [2] a time to be born and a time to die, a time to plant and a time to uproot, [3] a time to kill and a time to heal, a time to tear down and a time to build"
On this earth ("under heaven") many things can be classified as pluses and minuses: addition and subtraction.
To be born, planted, healed, and built can be classified as an addition to the earth.
To die, uproot, kill, and tear down can be classified as a subtraction from the earth.
Notice that there is a time for both addition and subtraction.
Addition (+) and subtraction (-) are essential to the seasonal life cycle. Those who think constant growth means uninterrupted numerical addition without any subtraction need to look closely at this passage. There is "a time to tear down." In other words, there is a time to subtract (-). Jesus expands on this further through his pruning metaphor in John 15 about the vine and its branches.
Something similar can be said for those who negatively focus on constant loss. This is also an error since there is "a time to build" (+).
People can be overly shocked or even mentally impaired over a big subtraction or addition in their life. So understanding that addition and subtraction are balanced plainly and perfectly into God's plan can help prepare us for life's seasonal transitions.
Despite often being seen in the negative, a subtraction is not automatically equated with loss--or even something bad. For example, foolish thinking patterns--in every person--need to die, be uprooted, and torn down.
Transformation
Dust into Gnats is rare digital art by Joe Chiappetta on pixEOS Gallery. It illustrates the plague of gnats from Exodus 8:16-19. My daughter Anna wisely pointed out that the miracle of God using Aaron to turn dust into gnats in ancient Egypt is entirely relevant to the transformational elements of Bible Math.
Exodus 8:16-19 The Plague of Gnats
[16] "Then the LORD said to Moses, 'Tell Aaron, "Stretch out your staff and strike the dust of the ground," and throughout the land of Egypt the dust will become gnats.' [17] They did this, and when Aaron stretched out his hand with the staff and struck the dust of the ground, gnats came upon men and animals. All the dust throughout the land of Egypt became gnats. [18] But when the magicians tried to produce gnats by their secret arts, they could not. And the gnats were on men and animals.
[19] The magicians said to Pharaoh, 'This is the finger of God.' But Pharaoh's heart was hard and he would not listen, just as the LORD had said."
For God, reprogramming objects to become alive is simply a matter of speaking it into existence. This event is also mentioned in Psalm 105:31, where the LORD "spoke, and there came swarms of flies, and gnats throughout their country."
Dust + God = Life
Creation is still happening.
Without God, there is no life.
0 God = 0 Life
Seek God's favor. Those unified with God benefit from his ongoing creations. Those opposed to God are more susceptible to plagues.
Dust can be defined as bits of the earth or dead skin. Therefore it is possible that God resurrected dead skin (dust) to make the gnats. If the dust used by God was dead skin, then it is a foreshadowing of the resurrection. Death + God = New Life.
Matthew 19:30
"But many who are first will be last, and many who are last will be first."
Order changes instantly to the extreme opposite.
1 shifts to 100.
100 shifts to 1.
Positioning is relative and with God.
Mark 10:7-8
"For this reason a man will leave his father and mother and be united with his wife. And the two shall become one flesh. So they are no longer two, but one flesh."
Referring to marriage between man and wife.
1 husband + 1 wife = 1 married flesh.
Two people "are no longer two, but one."
See new patterns when looking at numbers from God's point of view.
1 + 1 = 1
Matthew 25:31-46
Sheep and Goats
[31] "When the Son of Man comes in his glory, and all the angels with him, he will sit on his throne in heavenly glory. [32] All the nations will be gathered before him, and he will separate the people one from another as a shepherd separates the sheep from the goats. [33] He will put the sheep on his right and the goats on his left.
[34] Then the King will say to those on his right, 'Come, you who are blessed by my Father; take your inheritance, the kingdom prepared for you since the creation of the world. [35] For I was hungry and you gave me something to eat, I was thirsty and you gave me something to drink, I was a stranger and you invited me in, [36] I needed clothes and you clothed me, I was sick and you looked after me, I was in prison and you came to visit me.'
[37] Then the righteous will answer him, 'Lord, when did we see you hungry and feed you, or thirsty and give you something to drink? [38] When did we see you a stranger and invite you in, or needing clothes and clothe you? [39] When did we see you sick or in prison and go to visit you?'
[40] The King will reply, 'I tell you the truth, whatever you did for one of the least of these brothers of mine, you did for me.'
[41] Then he will say to those on his left, 'Depart from me, you who are cursed, into the eternal fire prepared for the devil and his angels. [42] For I was hungry and you gave me nothing to eat, I was thirsty and you gave me nothing to drink, [43] I was a stranger and you did not invite me in, I needed clothes and you did not clothe me, I was sick and in prison and you did not look after me.'
[44] They also will answer, 'Lord, when did we see you hungry or thirsty or a stranger or needing clothes or sick or in prison, and did not help you?'
[45] He will reply, 'I tell you the truth, whatever you did not do for one of the least of these, you did not do for me.'
[46] Then they will go away to eternal punishment, but the righteous to eternal life."
Helping others transfers to helping Jesus.
Service jumps from person to person (to the person of Jesus).
Same is true for neglect of people.
Neglect jumps from the neglected person to Jesus.
Lifestyle of pouring yourself out to help others leads to God filling you up with eternal life.
Subtraction of self results in addition to eternal life.
Time
Joshua 10:12-14
More Daylight Hours Given to Joshua
[12] "On the day the LORD gave the Amorites over to Israel, Joshua said to the LORD in the presence of Israel: 'O sun, stand still over Gibeon, O moon, over the Valley of Aijalon.'
[13] So the sun stood still, and the moon stopped, till the nation avenged itself on its enemies, as it is written in the Book of Jashar. The sun stopped in the middle of the sky and delayed going down about a full day. [14] There has never been a day like it before or since, a day when the LORD listened to a man. Surely the LORD was fighting for Israel!"
Since we know the earth rotates on its axis, causing the sun's position to appear to be moving, this account is likely a telling of what it looked like from the earth's point of view when the earth's rotation was stopped or slowed: that the sun stood still. So most likely, what actually happened is that God stopped or slowed the earth's rotation for a period of time. This also means God had to temporarily suspend or modify some of the typical mechanics of gravity so the world would still function.
God gave the Israelites more daylight hours so they could have a thorough victory.
God disrupts the typical flow of time.
The normal mechanics of the earth's relationship with the sun and moon was changed by God--at the request of a human being.
Joshua's prayer was very bold. He understood that God commands the mechanics of the universe: that things that are usually fixed are in fact, pliable under God.
This cannot be one of the cyclical eclipses because it says "there has never been a day like it before or since...."
"About a full day" refers to either a full 24-hour period, or a full daytime period of 12 hours.
Therefore when attempting to calculate time and the lengths of years, factor in that God added at least 12 hours to our historical timeline.
In context, we see God answer the time-bending prayer of the man courageously leading God's people with faith and action. For those who pray to God without seeing the desired results, imitate Joshua by add faith, godly actions, and consistent efforts in leading people to be faithful to God.
2 Kings 20:8-11
The Shadow Moves Backwards for Hezekiah
[8] "Hezekiah had asked Isaiah, 'What will be the sign that the LORD will heal me and that I will go up to the temple of the LORD on the third day from now?'
[9] Isaiah answered, 'This is the LORD's sign to you that the LORD will do what he has promised: Shall the shadow go forward ten steps, or shall it go back ten steps?'
[10] 'It is a simple matter for the shadow to go forward ten steps,' said Hezekiah. 'Rather, have it go back ten steps.'
[11] Then the prophet Isaiah called upon the LORD, and the LORD made the shadow go back the ten steps it had gone down on the stairway of Ahaz.
Either God bent the light from the sun to make the shadow move backward without altering time, or God reversed the rotation of the earth, modified gravity, and then allowed the earth to resume its typical rotation. This means he altered time.
If the later is true, our timeline has been altered by however long it took for the shadow to move backwards 10 steps. It is unknown if he moved the shadow backwards more quickly or at the same rate of a typical rotation--yet in reverse.
Calculating all time on earth and factoring in this incident gives us this formula: Time + (-10 steps) = Actual Time.
This account is another of many examples where God shows complete control over creation, with typical mechanics being easily disrupted and altered by God for the benefit and inspiration of the people he has relationship with.
2 Peter 3:8
"But do not forget this one thing, dear friends: With the Lord a day is like a thousand years, and a thousand years are like a day."
1,000 years = 0.0027 years
Time is relative to God.
When you are "with the Lord," time can also become relative or even variable for you.
Since time is measured in numbers, with God, numbers are also relative.
Lifestyle Wellness
Philippians 4:3-7
[3] "Yes, and I ask you, my true companion, help these women since they have contended at my side in the cause of the gospel, along with Clement and the rest of my co-workers, whose names are in the book of life. [4] Rejoice in the Lord always. I will say it again: Rejoice! [5] Let your gentleness be evident to all. The Lord is near. [6] Do not be anxious about anything, but in every situation, by prayer and petition, with thanksgiving, present your requests to God. [7] And the peace of God, which transcends all understanding, will guard your hearts and your minds in Christ Jesus."
In context, the full benefits and blessings of this verse are for Jesus' "co-workers, whose names are in the book of life." So these benefits apply to Jesus' disciples: those who work for Jesus.
Rejoice means to be cheerful, calmly happy, and glad.
Rejoicing "always" is a decision.
Rejoice because you know your name is "in the book of life." In other words, you have an eternal luxury resort reservation booked for you when you die and get to heaven. That's something to be completely and constantly joyful about, as this physical life is impermanent.
Constant rejoicing is a command. It's not based on whether you feel like rejoicing or not.
100% Time = Rejoicing.
Commanded is also to "not be anxious about anything." Pursue a state of 0 worrying. So we need to subtract worrying and anxiety from our lifestyle.
The act of constant rejoicing triggers the peace of God in your life.
Since gentleness is also commanded, and it must be "evident to all," see the very high standard expected. Our attitude cannot simply be "I am gentle on the inside and if people don't see it, too bad." The biblical command is for every person we interact with to very clearly and consistently see our gentle behavior. That's 100% gentleness.
Pray in every situation. That's 100% prayer.
Thanksgiving is an essential component within prayer. So 100% praying with gratitude is needed.
Constant rejoicing is a catalyst for God to guard your heart and mind.
100% Rejoicing + 100% Praying with Gratitude + 100% Gentleness = Peace + Security + Spiritual and Mental Health.
Factoring in the command to not worry and that this verse is specific to Jesus' disciples, here is a more complete formula: 100% Rejoicing - 100% Worry + 100% Praying with Gratitude + 100% Gentleness + Following Jesus = Peace + Security + Spiritual and Mental Health + Salvation/Heaven/Paradise.
1 John 1:7
"But if we walk in the light, as he is in the light, we have fellowship with one another, and the blood of Jesus, his Son, purifies us from all sin."
Being part of Jesus' spiritual fellowship involves walking in the light.
Darkness is isolating. Jesus' light is communal and cleansing.
Being transparent with your life is part of walking in the light. This brings us closer together: having "fellowship with one another."
Walking with Jesus (as in doing what he calls us to do) serves as a renewable circular purification system.
Jesus cleanses his disciples from sin. He purifies them continuously.
Since Jesus "purifies" disciples from "all sin" (as in 100% of sin), we get this equation: 100% Sin + 1 Purifying Sacrifice of Jesus + People Walking in the Light = 0 Sin.
Jesus' 1-time sacrifice + Following Jesus' Walk in the Light = Community + Forgiveness + Purity + Godliness.
Rock Solid Biogenic Bible Math Metropolis is rare digital art by Joe Chiappetta available on SuperRare. It started as an ink drawing on a small rock from Zuma Beach in Malibu, California. Science, smart cities, scriptures, faith, and a renewable circular community and economy are some of the themes in this tiny, yet larger-than-life artwork for the soul.
Unity
Matthew 18:19-20
Jesus Speaking to His Disciples about Unity
[19] "Again, truly I tell you that if two of you on earth agree about anything they ask for, it will be done for them by my Father in heaven. [20] For where two or three gather in my name, there am I with them."
Unity is a catalyst for prayers being answered.
Note the context; this is a promise specific to Jesus' disciples. So becoming a disciple of Jesus is essential to receiving these benefits.
Jesus wants to be with people unified with him and with each other.
Jesus becomes present when 2 or 3 disciples are gathered in his name.
2 agreeing disciples + Jesus = 3 beings + answered prayer
1 + 1 = 3
1 + 1 + 1 = 4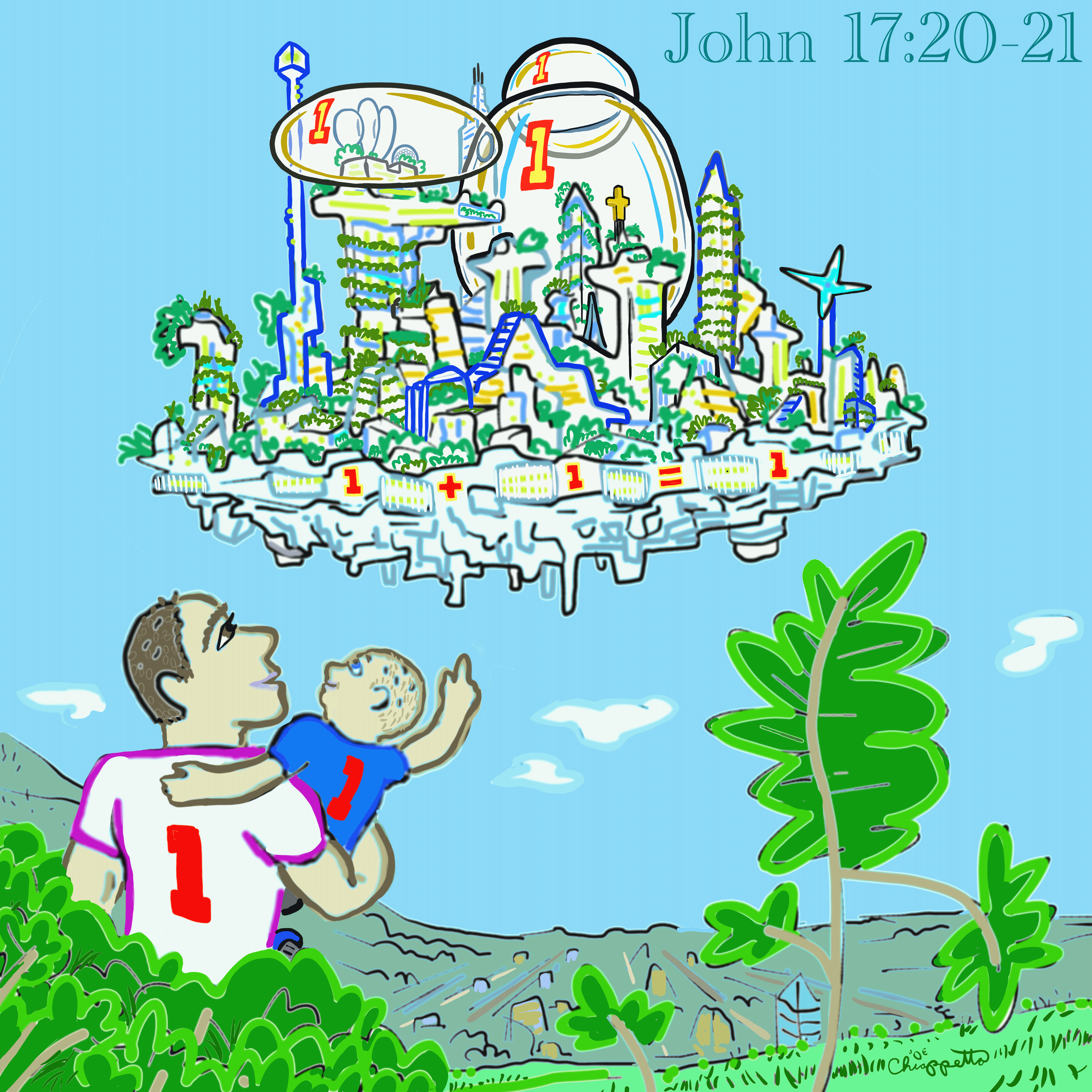 Bible Math City Calling is rare digital art by Joe Chiappetta available on SuperRare. It's a high-tech, family-focused depiction of what Jesus says about unity in John 17:20-21.
John 17:20-21
Jesus Prays for Unity Among All Disciples
[20] "My prayer is not for them alone. I pray also for those who will believe in me through their message, [21] that all of them may be one, Father, just as you are in me and I am in you. May they also be in us so that the world may believe that you have sent me."
Jesus is "one" with the Father. Therefore 1 + 1 = 1.
Jesus calls for oneness for those following him throughout all ages.
Complete unity is essential to the church members and a mark of true Christianity.
Assigning "X" to represent the total number of Jesus' disciples throughout all time, we can extrapolate this formula: 1 God + X = 1
1 God + All Disciples = 1
When combining the selflessness principles from John 12:23-26 about the seed that dies to produce many seeds (previously discussed), we get this equation: 0 = 1.
Therefore Many = 1. And simultaneously, 0 = 1. Therefore 0 = Many.
The fluidity of these spiritual formulas show God's power to fit the numbers to what is needed for his people to benefit from his creation.
Conclusion
Just as in quantum physics, things at the smallest level (such as electrons) don't always work the way they typically do for larger scale things, the same can be said for
Bible Math
. At the spiritual level, things do not always work the way they typically do as compared to how things typically operate in the physical realm. Since these spiritual and physical realms are connected under 1 God, and since we are all physical and spiritual beings, a greater understanding for who God wants us to be can be gained by seeing the unity in God's design for all realms.
There are so many more scriptures that can be added to this
Bible Math
study. This is not at all intended to be an exhaustive list. In fact, this article only scratches the surface of Christianity. Whole books could be written (and have been written) on each of these life-changing topics: Relationship with God, Faith, the Word of God, the Trinity, Selflessness, Growth, and Transformation. My hope and prayer is that more people will read this and be compelled to dive head first into the words of God to see what else the Lord has in store for us to discover, apply, and grow from.
The Bible is a guide to knowing God and knowing who God wants us to become. While the Bible was never intended to be a math textbook, it does clearly show that with God, mathematics has a more diverse set of possibilities and use cases than what most people initially grow up understanding. The scriptures help us see that the principles of the universe are putty in the hands of our creator, God.
Since God is the "author of life" (Acts 3:15), that means he is the author of math too. Just as God created the world and modifies it (and the math in it) to his will, God can also modify us for the greater good--especially for those who are willing. I have seen this time-and-time-again in the Bible, in the people around me--and most gratefully--in my own life too. As Mark 9:23 explains because of our incredible Creator, "all things are possible" for those who believe!
Scripture quotations taken from The Holy Bible, New International Version® NIV®. Copyright © 1973 1978 1984 2011 by Biblica, Inc. TM. Used by permission. All rights reserved worldwide.