[1] "Now faith is being sure of what we hope for and certain of what we do not see. [2] This is what the ancients were commended for. [3] By faith we understand that the universe was formed at God's command, so that what is seen was not made out of what was visible."
Proverbs 12:14
"From the fruit of their lips people are filled with good things, and the work of their hands brings them reward."
Just as God spoke life into existence from nothing, a person can speak good things (rewards) into existence.
0 good things + fruitful speech = many good things.
Go from zero to rewards with a change in attitude: faithful, joyful.
See the importance of encouraging words.
Word Alive and Active is art by Joe Chiappetta, depicting how the Bible shows Jesus' words to be living and active--as in completely relevant to our daily lives on a personal level. This rare digital art is part of ArtVndngMchn series 2 fine art pack release.
Hebrews 4:12-13
[12] "For the word of God is alive and active. Sharper than any double-edged sword, it penetrates even to dividing soul and spirit, joints and marrow; it judges the thoughts and attitudes of the heart. [13] Nothing in all creation is hidden from God's sight. Everything is uncovered and laid bare before the eyes of him to whom we must give account."
Just as scientists rely on precise instruments for measurement, so does God.
God's instrument is the "word of God," which is the Bible.
God gives us this instrument (the Bible) to measure ourselves accurately, and then help others do the same.
The Bible is not a dead book. It is living.
Just as a person cannot look at a living being once and fully know all about that being, the same is true for the Bible. Since it is the only living book in existence, continual interaction with the Bible is needed.
The Bible is "active," which can also be translated as "effective." It's a living interactive tool that--when used properly--works powerfully.
The Bible is powerful: sharper than a 2-edged sword, it cuts both ways.
Like a surgeon's scalpel when removing cancer, the Bible hurts, yet also heals, as it removes the sinful behavior.
The Bible judges our innermost thoughts and attitudes.
Our life will be measured (judged) against the living Bible.
The Bible measures deeper than all other instruments.
The Bible is a living measurement tool.
We are accountable to God through the living Bible.
Matthew 15:1-9
[1] "Then some Pharisees and teachers of the law came to Jesus from Jerusalem and asked, [2] 'Why do your disciples break the tradition of the elders? They don't wash their hands before they eat!'
[3] Jesus replied, 'And why do you break the command of God for the sake of your tradition? [4] For God said, "Honor your father and mother" and "Anyone who curses his father or mother must be put to death." [5] But you say that if a man says to his father or mother, "Whatever help you might otherwise have received from me is a gift devoted to God," [6] he is not to 'honor his father' with it. Thus you nullify the word of God for the sake of your tradition. [7] You hypocrites! Isaiah was right when he prophesied about you:
[8] 'These people honor me with their lips, but their hearts are far from me.
Bible Math Love
by Joe Chiappetta is rare digital art available on
MakersPlace
. This illustration started as a landscape Pacific Ocean scene that I drew at El Matador Beach in Malibu, California. It depicts a portion of the
Bible Math
project, where 1 Corinthians 13:8 shows that "Love never fails." This means that when applying the Biblical love that God defines, we can expect 0 failure, and therefore, 100% success.
1 Corinthians 13:4-8
[4] "Love is patient, love is kind. It does not envy, it does not boast, it is not proud. [5] It is not rude, it is not self-seeking, it is not easily angered, it keeps no record of wrongs. [6] Love does not delight in evil but rejoices with the truth. [7] It always protects, always trusts, always hopes, always perseveres.
John 12:23-26
Seed that Dies
[23] "Jesus replied, 'The hour has come for the Son of Man to be glorified. [24] I tell you the truth, unless a kernel of wheat falls to the ground and dies, it remains only a single seed. But if it dies, it produces many seeds. [25] The man who loves his life will lose it, while the man who hates his life in this world will keep it for eternal life. [26] Whoever serves me must follow me; and where I am, my servant also will be. My Father will honor the one who serves me.'"
No true multiplication without great sacrifice, selflessness.
Jesus (the kernel of wheat) died for our sin, only to resurrect and "produce many seeds," as in many disciples who are grateful for his sacrifice.
Die (become zero) to produce many.
1 - 1 (for God) = 0. Then 0 + God = Multiples.
0 → 1 → Many
0 → Many
This formula leads to a legacy of multiplication as well as "honor" and "eternal life."
We need to "die" to our old sinful life to become new in Christ and call others to this new life.
It is not enough to serve Jesus; disciples must serve Jesus + follow him too. Serving involves giving. Following involves imitation.
Serve Jesus + Follow Jesus + Selfless + Die to Sin = Honor + ∞ Salvation with Jesus + Same Opportunity for Many.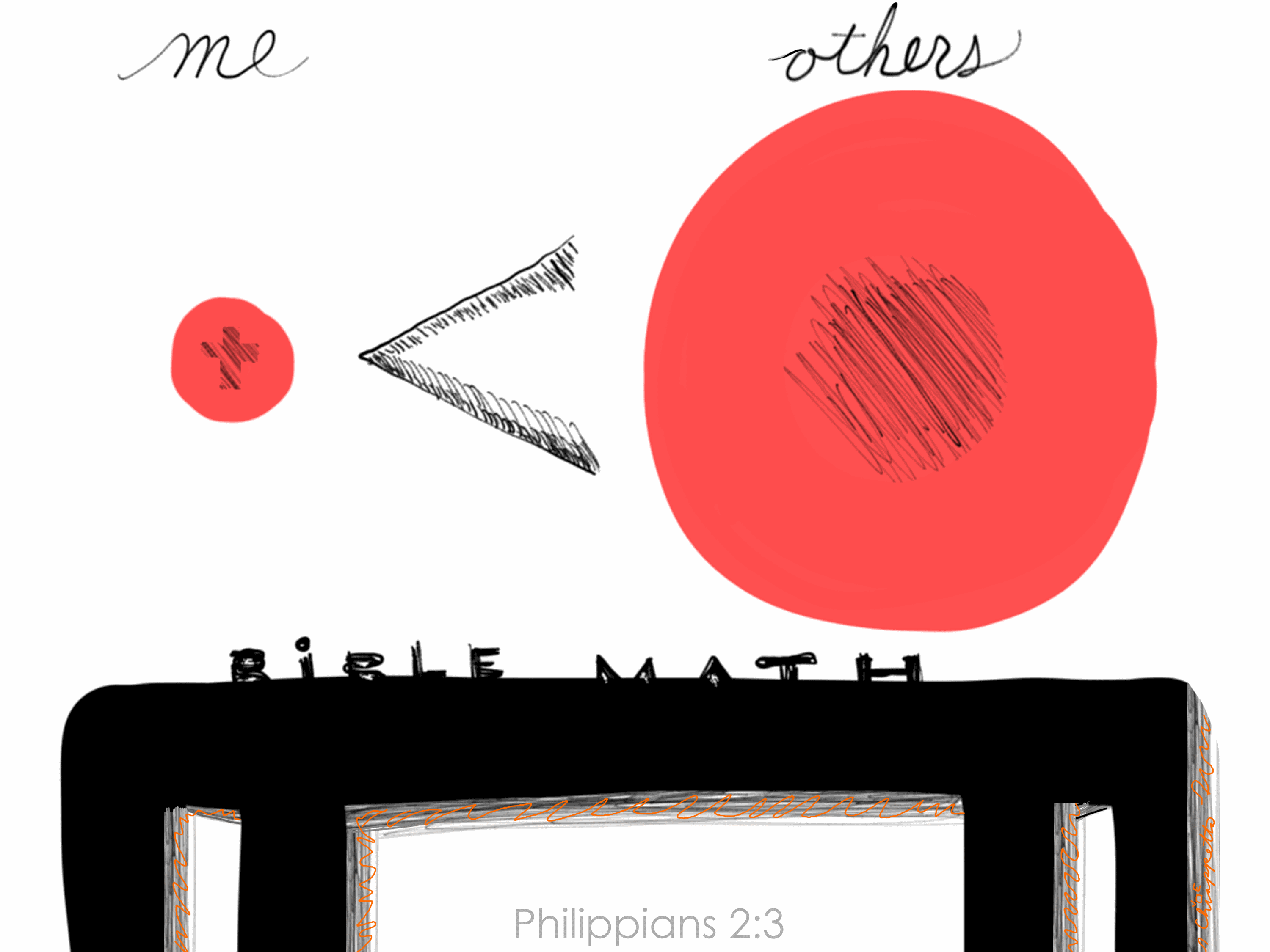 Bible Math Humility
is rare digital art by Joe Chiappetta, available on
MakersPlace
. Humility is one of the centerpieces of good character. A core principle of being humble is to "consider others better than yourselves," as defined so powerfully in Philippians 2:3-11. As a visual aid to help me put this into practice, I made this art to double as a personal reminder about how I can be humble in day-to-day life. Considering others better than myself can be expressed mathematically using the greater than ">" and less than "<" symbols. So as an instant humility formula from the Bible, I can say "Others > Me" as well as "Me < Others." I am determined to live this way and I hope you will find peace adopting this same resolve.
[9] "But you are a chosen people, a royal priesthood, a holy nation, a people belonging to God, that you may declare the praises of him who called you out of darkness into his wonderful light. [10] Once you were not a people, but now you are the people of God; once you had not received mercy, but now you have received mercy."
[23] "for all have sinned and fall short of the glory of God, [24] and are justified freely by his grace through the redemption that came by Christ Jesus. [25] God presented him as a sacrifice of atonement, through faith in his blood. He did this to demonstrate his justice, because in his forbearance he had left the sins committed beforehand unpunished--"
"Anyone, then, who knows the good he ought to do and doesn't do it, sins."
[27] "He draws up the drops of water, which distill as rain to the streams; [28] the clouds pour down their moisture and abundant showers fall on mankind."
Mark 10:7-8
"For this reason a man will leave his father and mother and be united with his wife. And the two shall become one flesh. So they are no longer two, but one flesh."
Referring to marriage between man and wife.
1 husband + 1 wife = 1 married flesh.
Two people "are no longer two, but one."
See new patterns when looking at numbers from God's point of view.
1 + 1 = 1
Matthew 25:31-46
Sheep and Goats
[31] "When the Son of Man comes in his glory, and all the angels with him, he will sit on his throne in heavenly glory. [32] All the nations will be gathered before him, and he will separate the people one from another as a shepherd separates the sheep from the goats. [33] He will put the sheep on his right and the goats on his left.
[34] Then the King will say to those on his right, 'Come, you who are blessed by my Father; take your inheritance, the kingdom prepared for you since the creation of the world. [35] For I was hungry and you gave me something to eat, I was thirsty and you gave me something to drink, I was a stranger and you invited me in, [36] I needed clothes and you clothed me, I was sick and you looked after me, I was in prison and you came to visit me.'
[37] Then the righteous will answer him, 'Lord, when did we see you hungry and feed you, or thirsty and give you something to drink? [38] When did we see you a stranger and invite you in, or needing clothes and clothe you? [39] When did we see you sick or in prison and go to visit you?'
[40] The King will reply, 'I tell you the truth, whatever you did for one of the least of these brothers of mine, you did for me.'
[41] Then he will say to those on his left, 'Depart from me, you who are cursed, into the eternal fire prepared for the devil and his angels. [42] For I was hungry and you gave me nothing to eat, I was thirsty and you gave me nothing to drink, [43] I was a stranger and you did not invite me in, I needed clothes and you did not clothe me, I was sick and in prison and you did not look after me.'
[44] They also will answer, 'Lord, when did we see you hungry or thirsty or a stranger or needing clothes or sick or in prison, and did not help you?'
[45] He will reply, 'I tell you the truth, whatever you did not do for one of the least of these, you did not do for me.'
[46] Then they will go away to eternal punishment, but the righteous to eternal life."
Helping others transfers to helping Jesus.
Service jumps from person to person (to the person of Jesus).
Same is true for neglect of people.
Neglect jumps from the neglected person to Jesus.
Lifestyle of pouring yourself out to help others leads to God filling you up with eternal life.
Subtraction of self results in addition to eternal life.
Joshua 10:12-14
More Daylight Hours Given to Joshua
[12] "On the day the LORD gave the Amorites over to Israel, Joshua said to the LORD in the presence of Israel: 'O sun, stand still over Gibeon, O moon, over the Valley of Aijalon.'
[13] So the sun stood still, and the moon stopped, till the nation avenged itself on its enemies, as it is written in the Book of Jashar. The sun stopped in the middle of the sky and delayed going down about a full day. [14] There has never been a day like it before or since, a day when the LORD listened to a man. Surely the LORD was fighting for Israel!"
Since we know the earth rotates on its axis, causing the sun's position to appear to be moving, this account is likely a telling of what it looked like from the earth's point of view when the earth's rotation was stopped or slowed: that the sun stood still. So most likely, what actually happened is that God stopped or slowed the earth's rotation for a period of time. This also means God had to temporarily suspend or modify some of the typical mechanics of gravity so the world would still function.
God gave the Israelites more daylight hours so they could have a thorough victory.
God disrupts the typical flow of time.
The normal mechanics of the earth's relationship with the sun and moon was changed by God--at the request of a human being.
Joshua's prayer was very bold. He understood that God commands the mechanics of the universe: that things that are usually fixed are in fact, pliable under God.
This cannot be one of the cyclical eclipses because it says "there has never been a day like it before or since...."
"About a full day" refers to either a full 24-hour period, or a full daytime period of 12 hours.
Therefore when attempting to calculate time and the lengths of years, factor in that God added at least 12 hours to our historical timeline.
In context, we see God answer the time-bending prayer of the man courageously leading God's people with faith and action. For those who pray to God without seeing the desired results, imitate Joshua by add faith, godly actions, and consistent efforts in leading people to be faithful to God.
God is much greater than (≫) time.
God ≫ Time.
2 Kings 20:8-11
The Shadow Moves Backwards for Hezekiah
[8] "Hezekiah had asked Isaiah, 'What will be the sign that the LORD will heal me and that I will go up to the temple of the LORD on the third day from now?'
[9] Isaiah answered, 'This is the LORD's sign to you that the LORD will do what he has promised: Shall the shadow go forward ten steps, or shall it go back ten steps?'
[10] 'It is a simple matter for the shadow to go forward ten steps,' said Hezekiah. 'Rather, have it go back ten steps.'
[11] Then the prophet Isaiah called upon the LORD, and the LORD made the shadow go back the ten steps it had gone down on the stairway of Ahaz.
Either God bent the light from the sun to make the shadow move backward without altering time, or God reversed the rotation of the earth, modified gravity, and then allowed the earth to resume its typical rotation. This means he altered time.
If the later is true, our timeline has been altered by however long it took for the shadow to move backwards 10 steps. It is unknown if he moved the shadow backwards more quickly or at the same rate of a typical rotation--yet in reverse.
Calculating all time on earth and factoring in this incident gives us this formula: Time + (-10 steps) = Actual Time.
This account is another of many examples where God shows complete control over creation, with typical mechanics being easily disrupted and altered by God for the benefit and inspiration of the people he has relationship with.
2 Peter 3:8
"But do not forget this one thing, dear friends: With the Lord a day is like a thousand years, and a thousand years are like a day."
1,000 years = 0.0027 years
Time is relative to God.
When you are "with the Lord," time can also become relative or even variable for you.
Since time is measured in numbers, with God, numbers are also relative.
Philippians 4:3-7
[3] "Yes, and I ask you, my true companion, help these women since they have contended at my side in the cause of the gospel, along with Clement and the rest of my co-workers, whose names are in the book of life. [4] Rejoice in the Lord always. I will say it again: Rejoice! [5] Let your gentleness be evident to all. The Lord is near. [6] Do not be anxious about anything, but in every situation, by prayer and petition, with thanksgiving, present your requests to God. [7] And the peace of God, which transcends all understanding, will guard your hearts and your minds in Christ Jesus."
In context, the full benefits and blessings of this verse are for Jesus' "co-workers, whose names are in the book of life." So these benefits apply to Jesus' disciples: those who work for Jesus.
Rejoice means to be cheerful, calmly happy, and glad.
Rejoicing "always" is a decision.
Rejoice because you know your name is "in the book of life." In other words, you have an eternal luxury resort reservation booked for you when you die and get to heaven. That's something to be completely and constantly joyful about, as this physical life is impermanent.
Constant rejoicing is a command. It's not based on whether you feel like rejoicing or not.
100% Time = Rejoicing.
Commanded is also to "not be anxious about anything." Pursue a state of 0 worrying. So we need to subtract worrying and anxiety from our lifestyle.
The act of constant rejoicing triggers the peace of God in your life.
Since gentleness is also commanded, and it must be "evident to all," see the very high standard expected. Our attitude cannot simply be "I am gentle on the inside and if people don't see it, too bad." The Biblical command is for every person we interact with to very clearly and consistently see our gentle behavior. That's 100% gentleness.
Pray in every situation. That's 100% prayer.
Thanksgiving is an essential component within prayer. So 100% praying with gratitude is needed.
Constant rejoicing is a catalyst for God to guard your heart and mind.
100% Rejoicing + 100% Praying with Gratitude + 100% Gentleness = Peace + Security + Spiritual and Mental Health.
Factoring in the command to not worry and that this verse is specific to Jesus' disciples, here is a more complete formula: 100% Rejoicing - 100% Worry + 100% Praying with Gratitude + 100% Gentleness + Following Jesus = Peace + Security + Spiritual and Mental Health + Salvation/Heaven/Paradise.