ArtVndngMchn Series 3
: CryptoSkateboards and Other Things that Fly
Launched February 26th, 2022
Fine art NFTs wrapped in randomized packages
10% donated to charity
Cryptoart OGs and emerging artists
On Wax Blockchain
Coincides with 3D virtual exhibit in the metaverse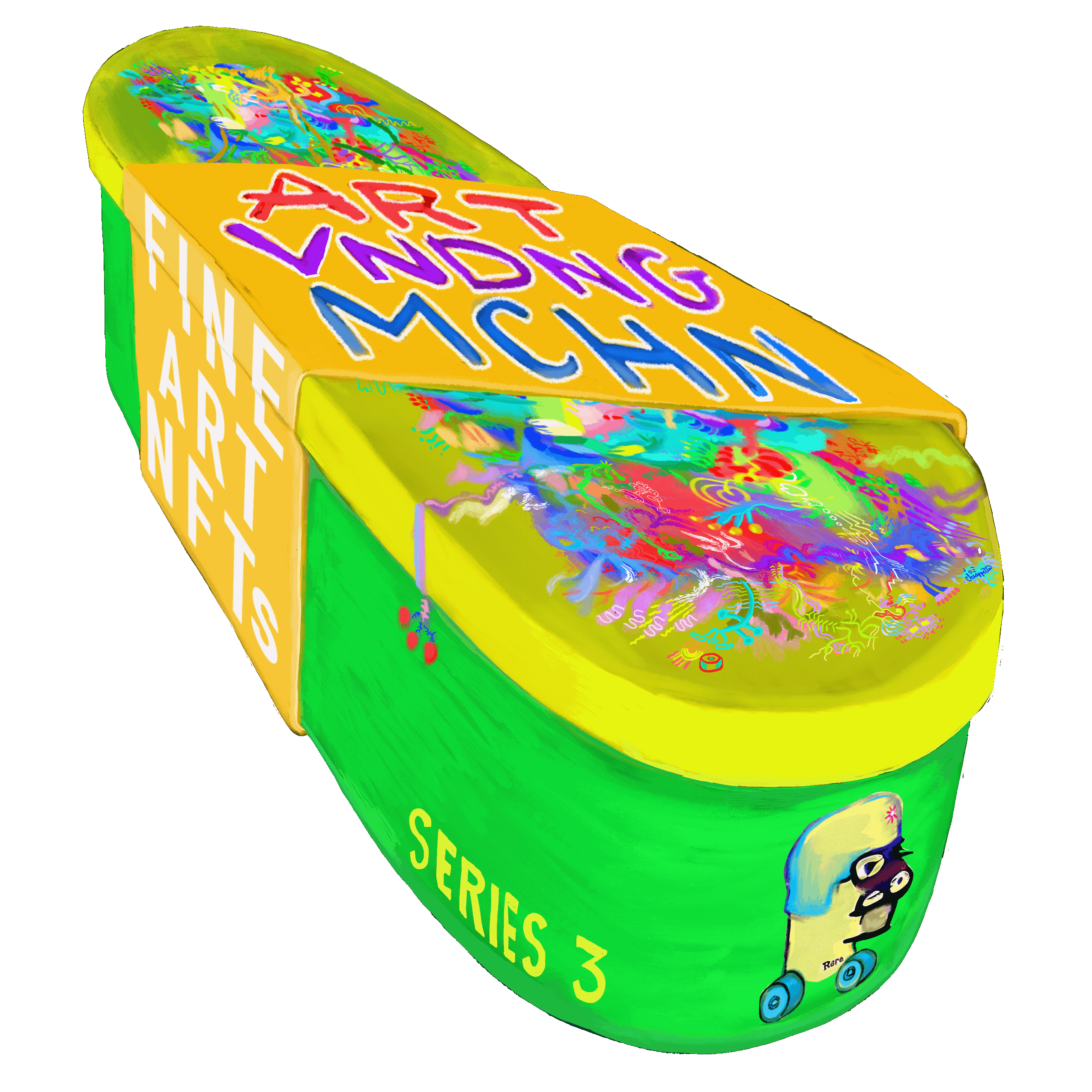 ArtVndngMchn Series 3 NFT fine art pack art by Joe Chiappetta
ArtVndngMchn is a digital fine art collection that wraps curated, top-notch paintings and drawings into surprise NFT packages on the WAX blockchain. With its new Series 3 pack release, ArtVndngMchn is back to paint the world in all colors with fun and uplifting inspiration. Much of the Series 3 art will revolve around the theme of skateboards, fantastic cars, and other high-flying vehicles.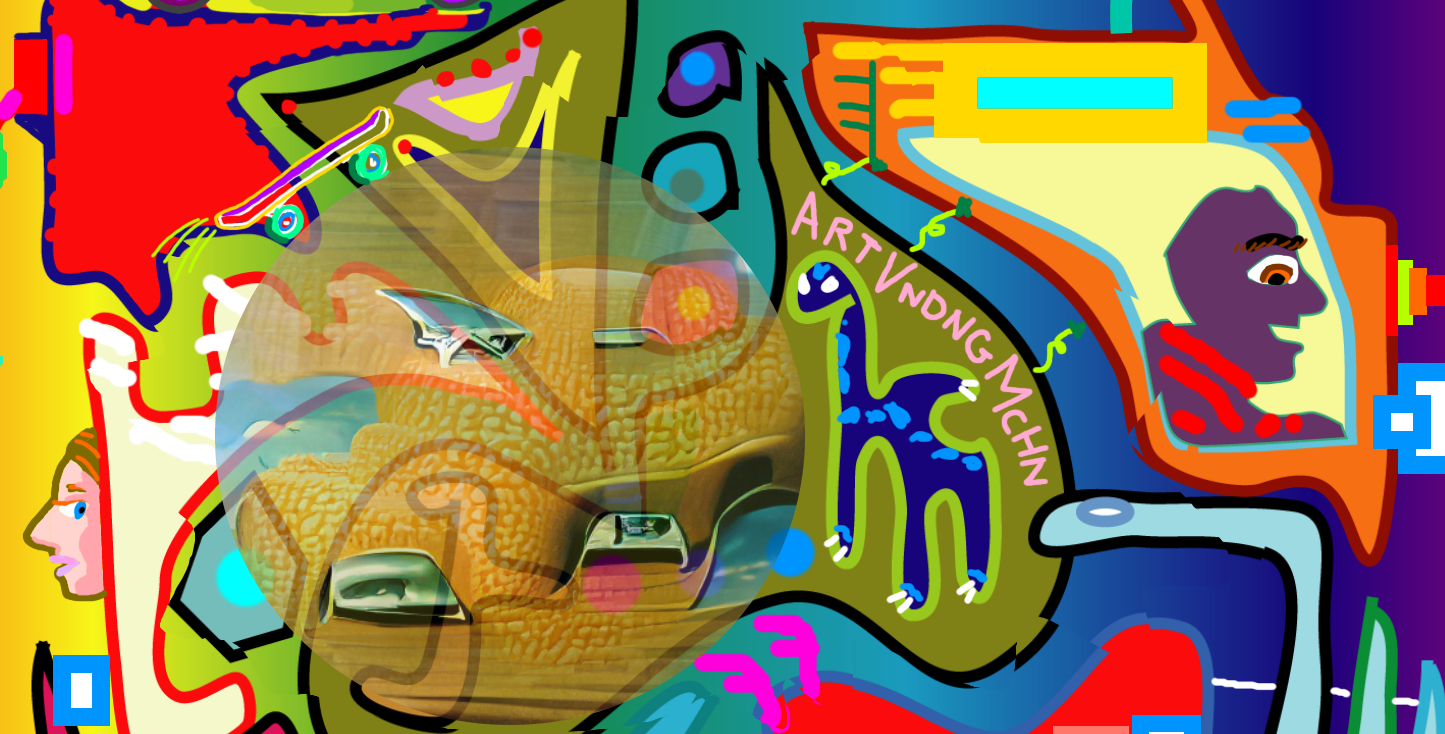 On this same day as the NFT pack release, many of the fine art pieces from this collection will be on exhibit in a Minecraft metaverse at
The Brawl Gallery
, where visitors have to fight monsters and complete mazes before they win the rare privilege of viewing this special exhibition. This 3D virtual gallery is located within the massive ArtVndngMchn Amusement Park in The Uplift World. Experiencing ArtVndngMchn Series 3 paintings in The Brawl Gallery is an art adventure to die for... because the in-game monsters may (virtually) kill you a few times before you make it through the labyrinth that leads to the Brawl Gallery's main exhibit hall.
As with each preceding pack release, a percentage of the revenue will be donated to help the poor through
MERCYworldwide
. To date thousands of dollars have been donated. For this series, 10% from the initial sale will go toward helping youth who are blind learn independent living skills at the Kyiv School for the Visually Impaired!
Curated by award winning cartoonist Joe Chiappetta, cryptoart OGs as well as emerging artists have contributed some of their best artworks to this lively fine art collection. Artists included in Series 3 include
Bruce Bachelder
,
Jennifer Barrett
,
Anna
,
Denise
,
Joe
, and
Luke Chiappetta
, Beth and
Caleb Cohen
,
Kara Mia
,
Sean O'Kana
,
Mike Rende
,
Melida Rios
,
Fabi Yamada
,
Richard Yates
, and
Marko Zubak
.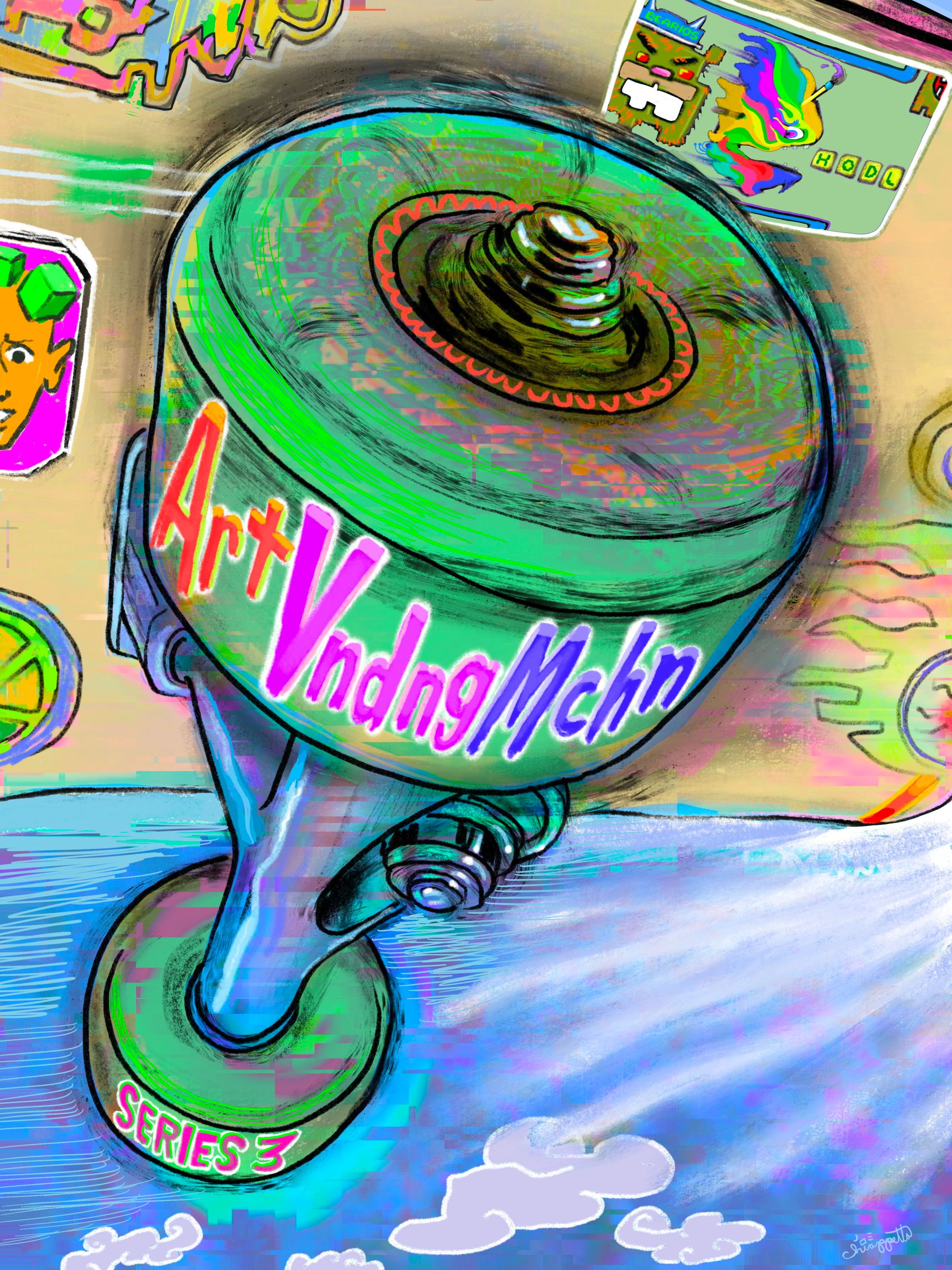 Each piece in this collection serves as stand-alone high-quality fine art... plus some of these pieces can also be blended through
NeftyBlocks
into even more stunning and rare pieces of artwork. The
ArtVndngMchn series
is a fine art experience with an unpredictably gamified NFT life of its own. Join in the fun now!
Follow joeychips on Twitter for more frequent ArtVndngMchn updates.