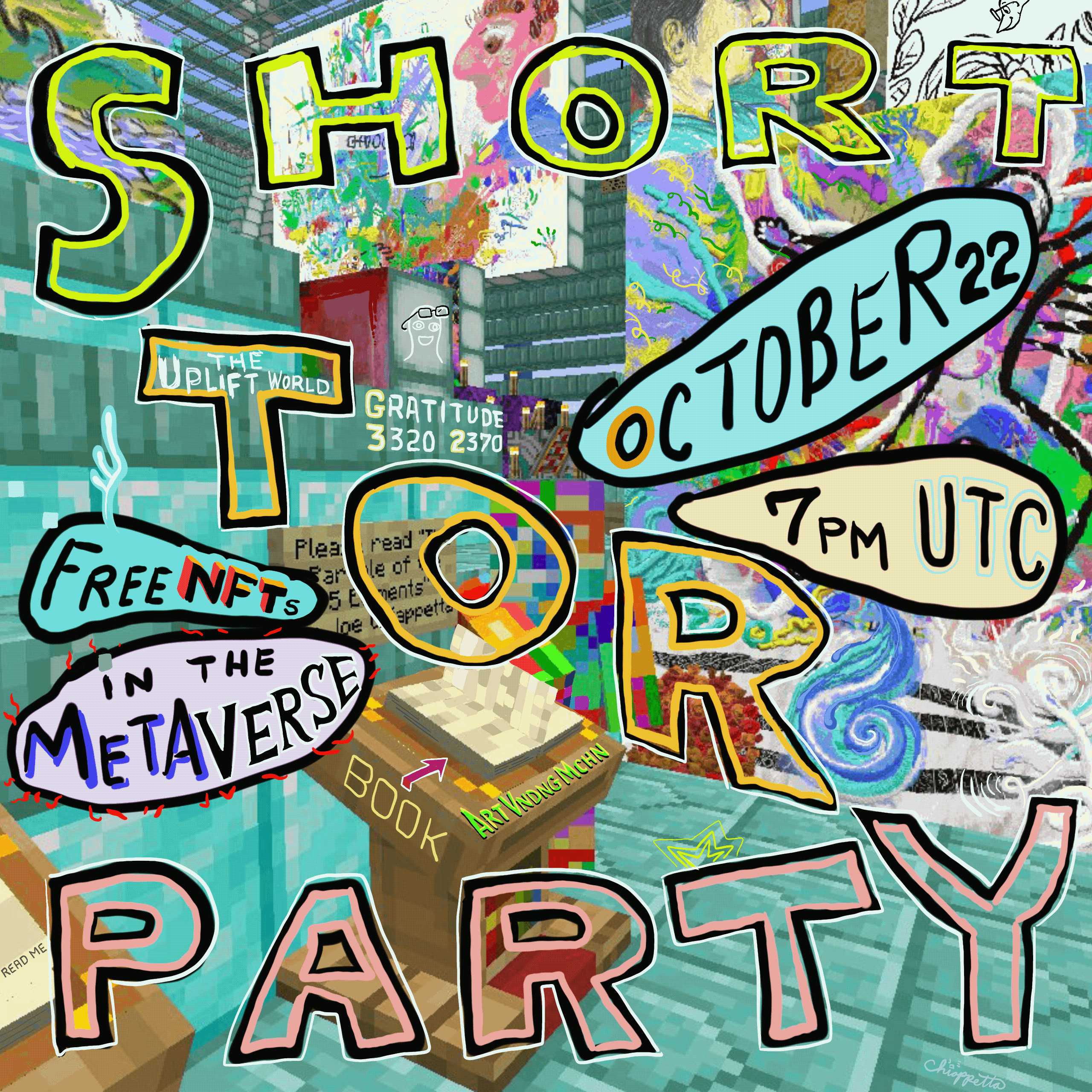 Short Story Party
is an event flyer and rare digital art by Joe Chiappetta, available on
AtomicHub
.
Is this a metaverse event flyer or an animated piece of art? Yes to both.
While the below event has concluded, you can still visit this site for an out-of-this-world fine art, gaming, and reading experience.
ArtVndngMchn presents:
Short Story Party!
When: Friday October 22, 2021 from 7pm to 8pm UTC.
What: Come to ArtVndngMchn Amusement Park and read exclusive (very) short stories as part of this interactive fine art, gaming, and literature experience in our 3D virtual world.
Where: Minecraft Java Edition in The Uplift World server called Gratitude at coordinates 3320 2370. This metaverse is currently in closed alpha phase, meaning only land owners and those whitelisted can participate. To get whitelisted, direct message your Minecraft username to joeychips on Twitter before event starts.
Receive Free NFT: Complete all steps to receive free NFT:
Take in-game selfie screenshot reading one of the short stories.
Post screenshot as a Quote Tweet to joeychips' tweet from day of event.
Write a 2-sentence review of one of the short stories.
Include your WAX address.
Short Stories: At this in-game event, 7 super-short stories by Chiappetta (an award-winning author) and others are on display to be read in the main gallery. These stories are not available anywhere else and can only be accessed in the ArtVndngMchn Amusement Park. Stories include...
Another Story Daddy (Silly Daddy short story)
ArtVndngMchn Woman on a Mission (sci-fi)
Me and Edgar Lee (poem)
A Mountain of Snow (Silly Daddy surreal slice-of-life song lyrics)
The Parable of the Creator's Kingdom (a fine art allegory)
The Parable of the Five Elements (sci-fi)
Starleah (sci-fi)
NFT Releases
: To celebrate this event, the ArtVndngMchn NFT Collection will simultaneously release
10
new NFTs. This includes 9 unique Superblends at
Neftyblocks
as well as 1 new NFT on
MakersPlace
called
Art and Gaming Wisdom for the Ages
.
Follow joeychips on Twitter for more updates.