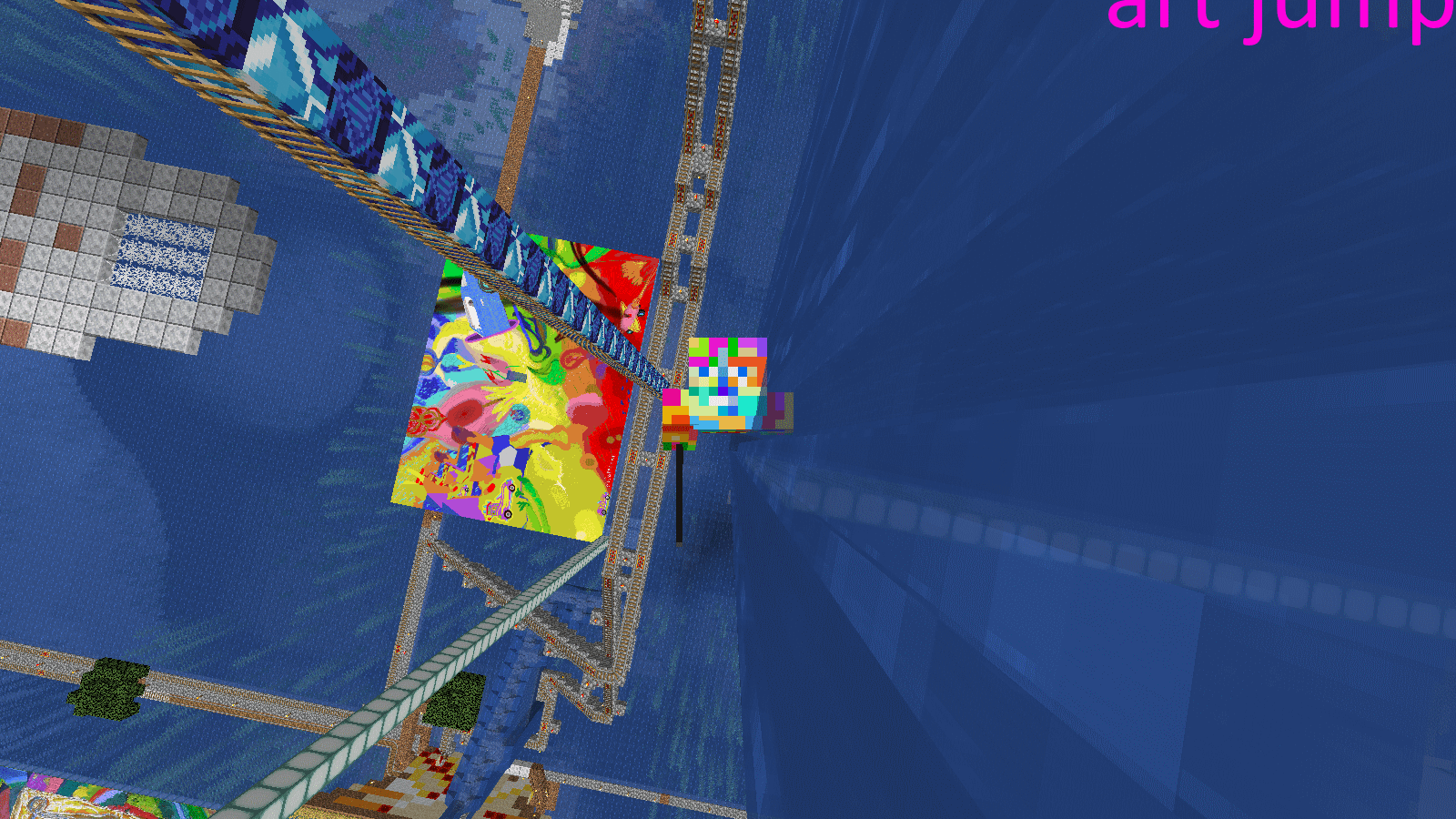 Art Jump
is rare digital art by Joe Chiappetta, available on
NeftyBlocks
. At ArtVndngMchn Amusement Park, players can come to do art jumps through multiple elevations of fine art... if only they dare!
While the below events have concluded, you can still visit all of these sites for an out-of-this-world fine art and gaming experience.
Through my
ArtVndngMchn
fine art project, I am co-hosting a number of highly interactive events in The Uplift World this week.
The Uplift World
is basically Minecraft morphed into 3D art galleries of interactive exhibits and adventures with NFT integration built into the environment. We are giving away a number of free NFTs at these Autumn 2021 events: the first event is on September 22nd with 3 NFT projects participating and the second event is September 24th with 4 NFT projects participating. I will be present at both events leading tours of participants on ArtVndngMchn art jumps and roller coaster rides like nothing ever experienced.
To receive NFTs, participants must (a) attend in-game, (b) take 1 screenshot of each session, (c) post screenshot on each host's Twitter as a retweet to host's post of that day. and (d) include your WAX wallet in that retweet.
September 22, 2021 - NFT Fun Fair
A day of entertaining quests, art performances, and NFT giveaways in The Uplift World! Those who participate in all parts of this event will receive NFTs from each participating host project. For those who collect them all, these NFTs can then be blended to create an exclusive collaborative NFT.
3pm UTC:
ArtVndngMchn Amusement Park
Server/Location: Gratitude 3195 2277
joeychips
on Twitter
Take part in a thrilling art jump, dropping through multiple artworks as part of an historic art performance.
4pm UTC: The Aztec Hotel by MitzisNiFTis & Sovoccor
Server/Location: Upluft 1000 2000
mitzisNiFTis
on Twitter
Virtual video game immersion experience
5pm UTC: Rocket Gallery
Server/Location: Genesis 3550 3200
swedish_gold
on Twitter
Jump in the aquarium and find out which artist is showcased now and the name of the art piece. Take a selfie/screenshot.
September 24, 2021 - Gratitude NFT Quest
Many of you have been curious about the Gratitude server in The Uplift World, and it is our pleasure to announce we are hosting our very first Gratitude wide event! Gratitude is currently full of NFT artists hard at work, creating a server full of activities and amenities for everyone, and we are thrilled to invite you to this exclusive sneak peek at the progress we have made so far! There will be events, a scavenger hunt, and prizes for all, including NFT and in game prize. We can't wait for you to see what Gratitude is all about!
Visit participating sites any time throughout the day, or follow the schedule for these cool happenings:
Gratitude wide: Starting at 12AM UTC we will release our scavenger hunt list, take selfies at each location in the hunt (make sure your avatar is in the photo) to win a prize! First person to complete the hunt gets their choice of an in-game prize, and a WCH NFT! Prizes will be included for participants as well.
Anders | Anyobservation
Location: 1700 1700
12AM UTC: Kick off the event with a full day of hunting for selfies in the depths of the Anyobservation pyramid and earn some exclusive NFT's
3pm UTC : Anders will go live
Anders will release selfie scavenger hunt list on his twitter the day before the event, all selfie submissions received on twitter from between 12AM UTC and 11:59PM UTC will be eligible
ArtVndngMchn Amusement Park
Location: Gratitude 3195 2277
7pm UTC: Take part in a thrilling art jump, dropping through multiple artworks as part of an historic art performance to receive a free NFT.
WCH Designs
Location: Gratitude 1650 850
11pm UTC boat race
12am UTC parkour course
EOSUSA
Location: Gratitude 4200, 2100
All Day - take a selfie in front of EOSUSA's logo and the best 3 submissions will get 100 WAX.
Come and join the fun!